Cawthron bequest enables scholarship legacy
A bequest to Cawthron Institute from local woman Madge Johnston has guaranteed the gift of a scholarship to an aspiring scientist for years to come.
Each year Cawthron offers highly sought-after summer scholarships to tertiary students, providing them with an opportunity to contribute to an active scientific research project and be mentored by top Cawthron scientists.
Thanks to the generous bequest of $42,000 from Johnston, Cawthron will use the donation to help fund its summer scholarship programme, with one scholarship offered per year in her name until the bequest money runs out. The scholarships are offered to high academic achievers who have contributed to community activities and are strong advocates for the environment and science-led research.
The summer scholarships, each accompanied by a $7,500 stipend, are currently open for applications and up to seven students will be able to work with Cawthron scientists over the 2023-24 summer and learn what it means to work as a professional scientist. Find out more on our Current Vacancies page.
Madge Johnston bequest a pleasant surprise
Talk to anyone in Richmond and they will have a story about Madge Johnston. This may be as a result of being taught by her, or playing golf or bridge with her (or against her!). Or, they may have been with her when she sat on train tracks at Kiwi Station in 1955 in protest against closing the Nelson Railway line.
After her death in 2021, Cawthron was notified that they were a beneficiary of Johnston's estate, along with many other Nelson Tasman charities. While the bequest was unexpected, it was not out of character for Johnston to wish to support a local independent research institute.
Her nephew, Michael Levy, says Johnston recognised the value of education and her local community was important to her.
"My aunt is remembered by those who knew her as being a formidable person with exacting and demanding standards and a wonderful and kind heart."
"She grew up on a farm in the Aniseed Valley during the depression years when there was very little money and she knew the value of working hard. It was her view that people from Nelson and Tasman could achieve great things and compete on the world stage. She often used to quote Ernest Rutherford, who grew up Brightwater and has been described as 'the father of nuclear physics' as being an excellent local example of you can do whatever you want if you try hard enough."
Levy says that for his aunt's 98th birthday, she asked that the family take her to the Saxton Oval to watch a cricket game. "She sat through the whole game in her wheelchair. This wish reflected her passion for living life to its full, right to the end. For her whole life, my aunt gave her all to the community; as a respected teacher at Richmond School for thirty years, a member then patron at the Totaradale Golf Club for more than fifty years and as founder then member and patron at the Richmond Bridge Club for forty years. Many recall her passionate running of raffles and fund-raising".
"It was a rare individual who escaped her clasp without a lighter wallet," said Levy.  "Folks would always talk of her sunny disposition, always positive outlook and her always welcoming approach….in our thousands of phone calls together over the years…her first words to me were always….Michael, how nice to hear your voice".
Of shorter duration was Johnston's ten day sit-in on train tracks at Kiwi Station at Tapawera in 1955. Nelson had long dreamed of a railway connecting it with the rest of the South Island and the line, while never profitable, was popular. It was used until 1955, when it was dismantled amongst fierce public protest. Along with Sonja Davies – a pioneering trade unionist, politician and feminist – and Ruth Page – a retired teacher – Johnston responded to a call to protest with a sit-in.
Levy agrees that applying the bequest to scholarships aligns well with Johnston's interests. "She would be delighted to know her money was being used to further the education of young New Zealanders."
If anyone is interested in making a donation to the 2023-2024 scholarships, or wants more information about leaving a bequest, please email us at foundation@cawthron.org.nz.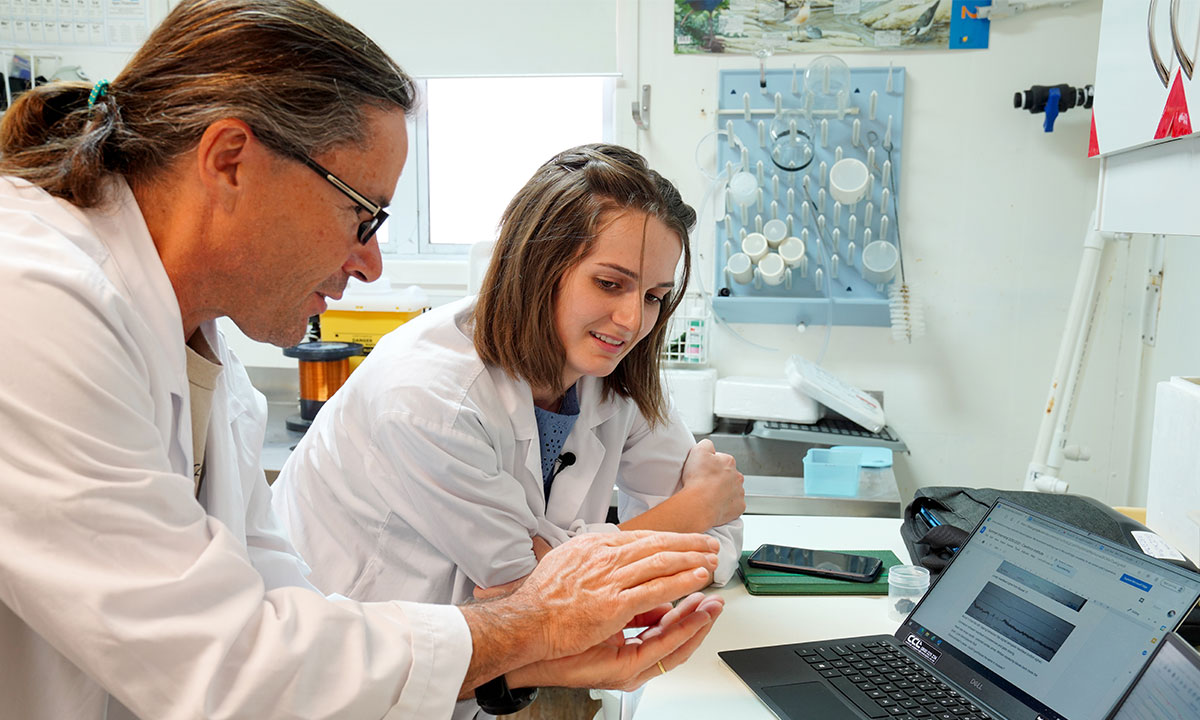 Image: Cawthron Institute.