Entries open for the 2022-23 Cawthron Marlborough Environment Awards.
11 August 2022
Key figures from Marlborough's primary industries and environmental groups came together on 4 August to launch the 2022-23 Cawthron Marlborough Environment Awards. Cawthron Institute is proud to support these Awards, which celebrate and encourage best practices in looking after the Marlborough region's land, water and energy resources.
Running for over 20 years, Cawthron Trust Board Manager Elizabeth Bean says the Awards have changed over time. "Twenty-five years ago, much of the focus was around pastoral farming. Today the Award categories include wine, community, business innovation, forestry, farming, marine, landscape and habitat enhancement. The Awards have evolved – like Cawthron – to solve the problems of today."
Marlborough Mayor John Leggett said the Awards have a simple message. "Sound environmental management is good business. We know that human-induced climate change will have impacts on Marlborough's primary sectors – they will all have to adapt and innovate if they are to remain competitive, and I am encouraged by the commitment to best practice that I witness in each award category."
Awards Trust Chair Jo Grigg said the Cawthron Marlborough Environment Awards are unique in New Zealand in that they encompass a range of industry and community initiatives. "I think this is a real strength – we are a region with diverse industries and resources. But we are small in population, so sharing ideas across industries and groups is vital. And boy, do some great ideas and products come out of Marlborough."
Kristie Paki Paki was a guest speaker at the launch, who led the application for OneFortyOne Kaituna Sawmill – winner of the Forestry category in 2020. Kristie shared her experience of entering the awards and shared some advice with new entrants. "Share your vision! The Awards process is a great opportunity to meet like-minded people and share korero around best practice and ideas. Our win attracted a lot of attention, and the positive vibrations both inside and outside the business were felt for a long time."
Entries are now open online at www.cmea.org.nz and close on 30 September.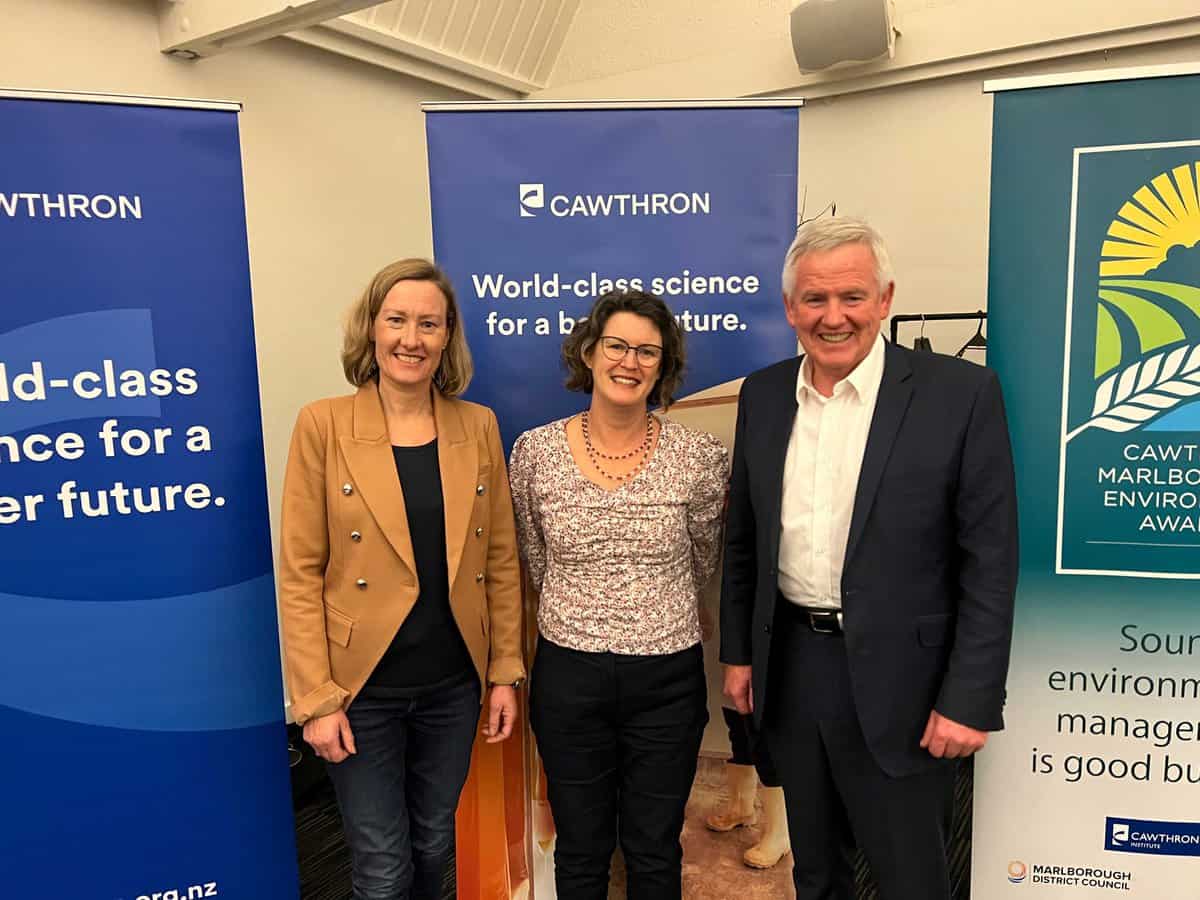 Top image: CMEA Trust Chair Jo Grigg, Cawthron Trust Board Manager Elizabethe Bean and Marlborough Mayor John Leggett.
Bottom image: CMEA Trust Chair Jo Grigg.