Our lakes health: past, present and future (Lakes 380) – Me hoki whakamuri kia haere whakamua. With increasing public interest in enhancing and protecting national water quality, it is vital to have information on the pre-human and current health of New Zealand's lakes. 
The health of many of our lakes is deteriorating, yet our ability to make informed assessments at a national scale is hampered by the scarcity of critical knowledge.
Currently, our knowledge of lake health only covers a small proportion of lakes larger than one hectare (less than 5% of the 3,800). For that 5%, datasets are short and assessment is incomplete, because monitoring started after those lakes had already deteriorated.
This programme, jointly led by GNS Science and Cawthron Institute, aims to obtain a nationwide health overview for 10% of our lakes (380). A combination of traditional environmental reconstruction techniques and more recent methods (such as environmental DNA and high resolution core scanning) will be used to collect data that will allow us to characterise current lake health, and explore rates and causes of change over the last 1,000 years.
Over the next five years we will work with iwi and hapū to learn from their mātauranga and oral histories that draw upon long associations of tangata whenua with the lakes. The sharing of mātauranga will help enrich and inform our joint aspirations for environmental reconstructions.
The information gained through this research will be used to assess water quality, characterise biodiversity, and inform and prioritise mitigation strategies on a national scale.
Funder: Ministry of Business, Innovation and Employment (MBIE).
New Zealand Collaborators: GNS Science (joint leaders), Matana Consulting, Kahungunu Ki Wairarapa, University of Otago, University of Auckland, Victoria University.
International Collaborators: Griffith University (Australia), University of Adelaide (Australia), University of Southampton (UK), Northern Arizona University (USA), University of Maine (USA), University of Wisconsin (USA) and University of Regina (Canada).
Partners: Ministry for the Environment, Department of Conservation, Ngāti Kahungunu ki Wairarapa, Ngāti Hauiti, DairyNZ, TBase 2, Avatar Alliance Foundation, Northland Regional Council, Auckland Regional Council, Waikato Regional Council, Bay of Plenty Regional Council, Hawkes Bay Regional Council, Horizons Regional Council, Greater Wellington Regional Council, Marlborough District Council, Tasman District Council, West Coast Regional Council, Environment Canterbury, Otago Regional Council, Environment Southland, Gisborne District Council.
Hamilton's seismic risk and lake health being investigated
Visit lakes380.com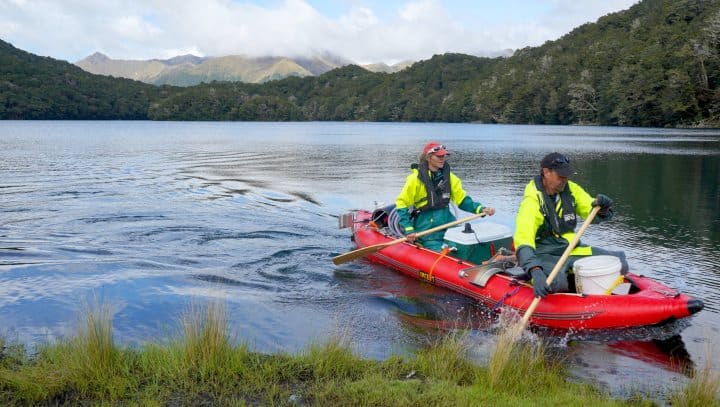 Lake sampling as part of National Lakes380 Research Programme
Dr Susie Wood
Senior Scientist – Microalgae & Algal Biotechnology