Proposed Science and Technology precinct aims to create a Te Tauihu hub of innovation and creativity
16 March 2021
Port Nelson, in collaboration with Cawthron Institute, is investigating the development of a Science and Technology precinct on its land near State Highway 6 with support from Nelson City Council.
The vision for the proposed precinct, bordered by Vickerman Street, Wildman Ave, Haven Road and State Highway 6, aims to create a hub of innovation and creativity. The precinct will further augment Nelson's leading position as a location for value-add companies working in the science and technology sectors.
Cawthron Institute has confirmed it is looking to relocate its existing laboratories from its main Halifax St East site as major upgrades are required. These upgrades would cause significant disruption and take several years to complete, and with a major pipeline of research, Cawthron has opted to invest in world-class laboratories on a new site.
Due diligence on the proposed precinct site is still ongoing and subject to further commercial negotiations, but it is hoped a formal announcement could be made by the middle of this year.
Port Nelson CEO Hugh Morrison says the vision for the precinct is to attract companies from a variety of sectors who will work together to provide solutions to some of our most pressing challenges in science and research, information technology, software development, health, agritech and aquatech.
"Our vision is for a high environmental and sustainable precinct campus, including collaborative workspaces and shared amenities such as conference facilities. With innovation as a key theme, the space will accommodate food and beverage outlets, open spaces and provide a park-like environment. the precinct will enhance the connection to the City Centre via the Maitai River walkway and cycleway," said Morrison.
Cawthron Institute CEO Volker Kuntzsch says with 70 percent of New Zealand's aquaculture industry based in Te Tauihu, the precinct could open up exciting new collaborations with other organisations also working to deliver sustainable economic and environmental solutions for the ocean economy.
"Cawthron's collaborative approach to our research has enabled much of our success. Relocating our new laboratories to this site will enable us to continue to realise and advance innovative economic outcomes for Te Tauihu and Aotearoa, alongside restoring and protecting our unique environment."
"We are really excited to be able to develop new world-class research facilities which will act as a springboard for delivering impactful science for the next 100 years. This significant investment in our region will enable our people to take their research to the next level, which will not only provide benefits locally, but also nationally and beyond," said Kuntzsch.
Morrison said the potential involvement of Cawthron Institute in the precinct, with its 100 years of delivering world-class science, will blaze a trail for a range of national and international tenants.
"With a growing appetite for new ways to work, there has been increased interest from technology companies that are considering relocating to Nelson, the precinct's design can be flexible to meet future tenants' requirements," said Morrison.
Nelson City Mayor Rachel Reese says the precinct will support the work being undertaken by Council to improve the City to Sea connection, as well as contribute to economic development opportunities and align with the Te Tauihu Intergenerational Strategy.
"Not only does this precinct support our existing businesses to grow, but the attraction of new high-value companies and their staff to Nelson will also generate sustainable economic value for the region. This is a really exciting proposal for our Smart Little City and supports our desire to be a City that provides modern opportunities to live, work and play," said Reese.
To support the attraction of the right mix of companies, the Council is proposing to provide support for the development of the precinct in its Long-Term Plan. There is an allocation of $3.5 million proposed in the Long-Term Plan and project initiation funding of $1.5 million available in the current year. This would result in total support of up to $5 million. This would be paid for through debt funding at a cost of $150,000 in rates per annum (across 40 years).
It is hoped the first phase of the precinct development, the construction of the new Cawthron laboratories, could begin as early as next year, pending final site negotiations.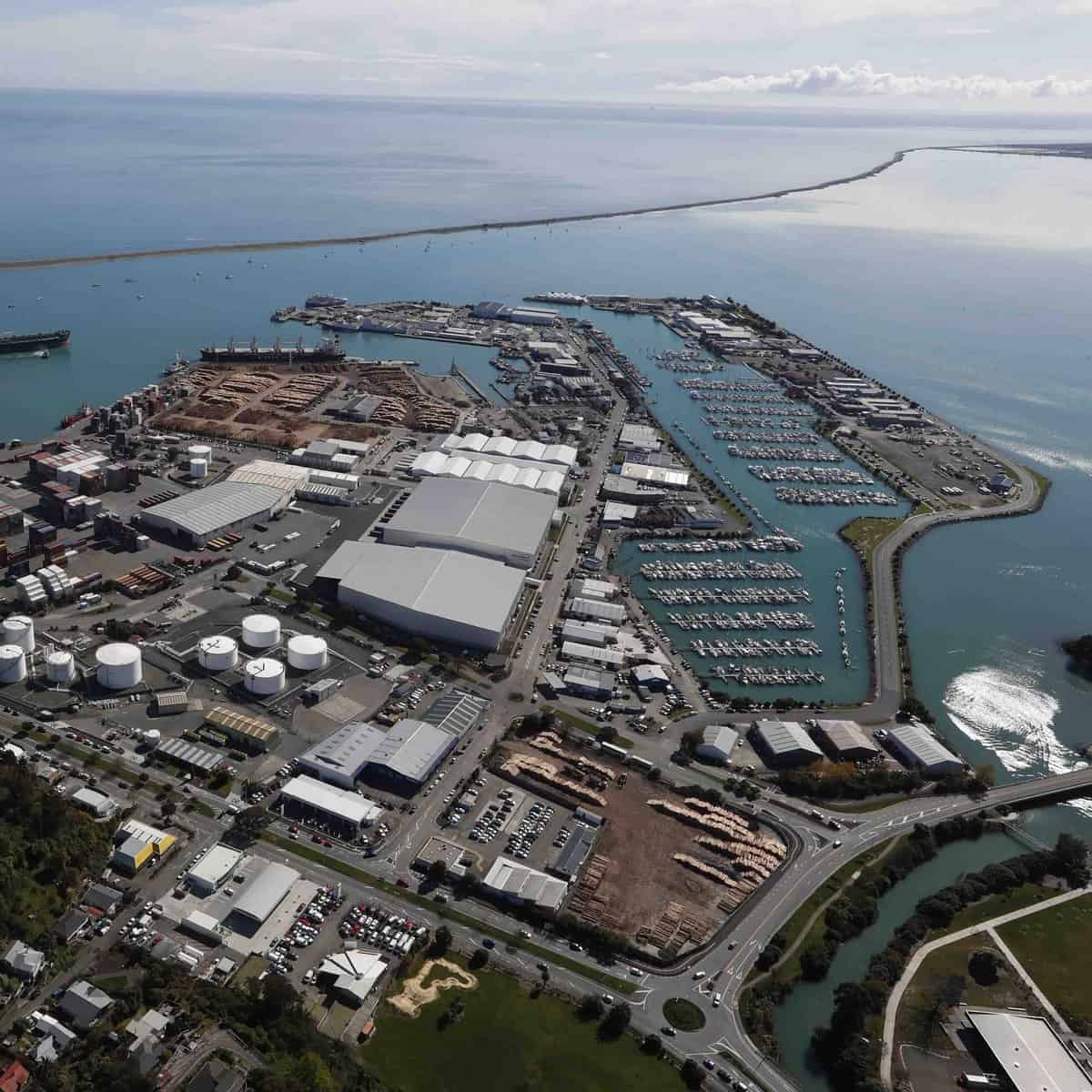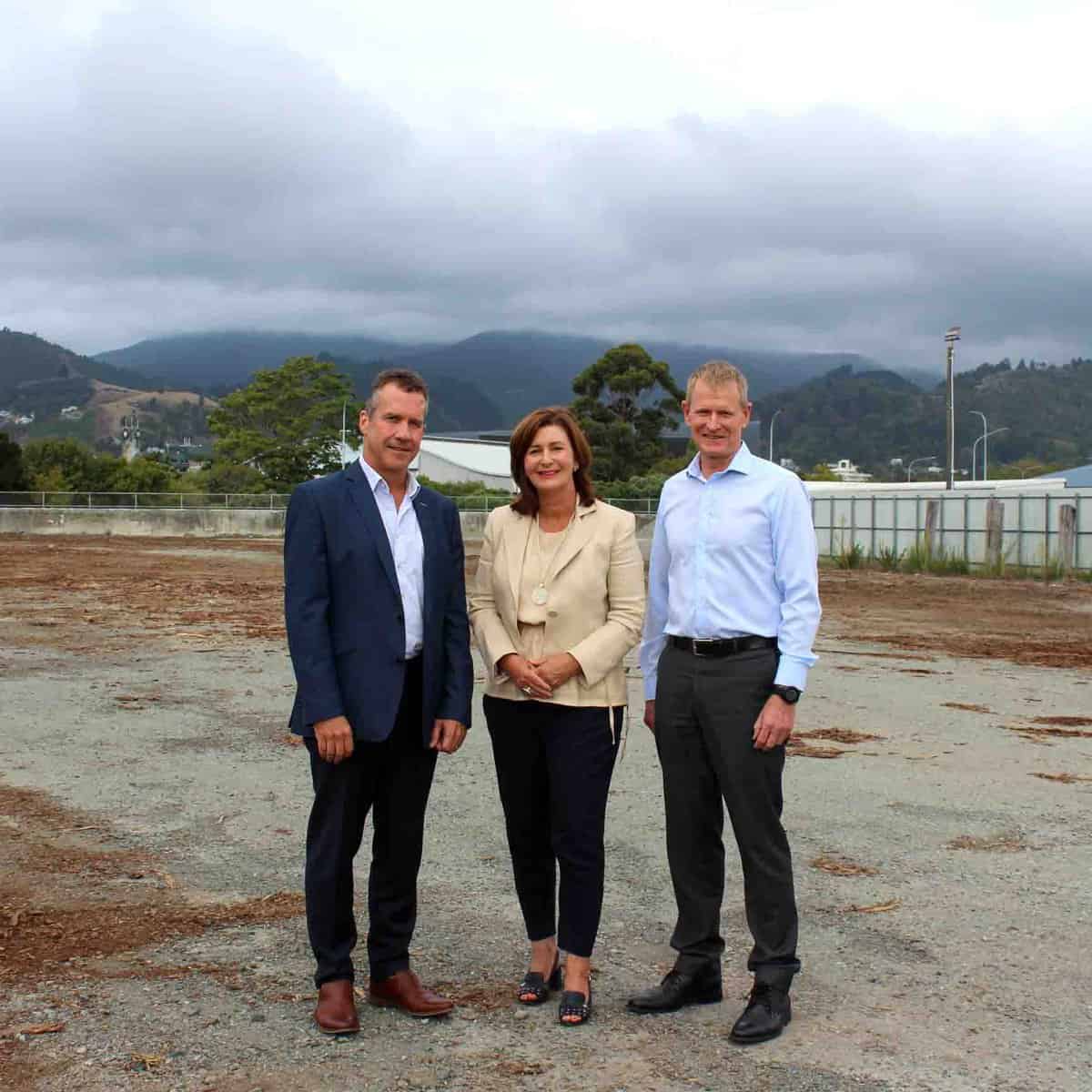 Cawthron Institute CEO Volker Kuntzsch, Mayor of Nelson Rachel Reece and Port Nelson CEO Hugh Morrison at the Proposed Science and Technology precinct site.