A partnership between Aspiring Biodiversity Trust and project sponsors at Toitū Te Whenua Land Information New Zealand is helping to protect and restore the indigenous biodiversity of the Makarora/Makarore and Wilkin/Otanenui Rivers in Otago.
In October 2020 Toitū Te Whenua developed a $321,000, four-year project with the Aspiring Biodiversity Trust to carry out threatened species monitoring, pest and weed management, and habitat restoration in the Makarore/Otanenui Catchment. This is funded through the Government's Jobs for Nature programme.
Ornithologist, ecologist and trustee Rachel Hufton said the Trust is delighted with the help.
"The health of the river ecosystem is critical to plant and animal life in the region and with this money we can achieve so much," Rachel Hufton said.
"Increased predator trapping along rivers is supporting the recovery of braided river bird species like the black-fronted tern and wrybill and also whio and rock wren residing upstream of the braided river.
"These birds are important environmental indicator species, which means improved outcomes for them result in benefits for the whole ecosystem. Maybe each stoat we catch ensures a rock wren or wrybill might live a day, month, year, a life longer?"
Since the partnership with LINZ started, an existing trap network along the rivers has been extended and intensified. This includes an additional 100 traps taking the total to over 200. A total of 182 predators were caught in these traps since 2020, and 471 in river traps since 2018. These include stoat, rat, hedgehog, ferret, possum, and mice.
Toitū Te Whenua Portfolio Manager Sally Cox says it's rewarding to work with a group that's so passionate about conservation work.
"The Trust's enthusiasm for the region is contagious and our working relationship is built on a shared vision for this beautiful part of Te Wai Pounamu South Island. It's exciting to think that in a few years visitors to the region might see more of New Zealand's most unique birds like the wrybill and black-fronted tern."
Annual braided river walkover surveys are carried out to gauge key species numbers, spatial distribution and identify nest sites. Nests are monitored and fledglings banded where possible so their survival can be recorded. The Trust recently tracked a wrybill chick from egg, to leaving the nest as a hatchling and then fledgling. It is hoped this bird will return to the Makarore for the upcoming season.
Wrybills, the only bird in the world with a bill that curves to the side, have suffered from rising flood levels leading to the loss of eggs at nest sites. Fortunately, other endangered bird species such as the black-billed gull, the rarest gull in the world, have chosen more elevated riverbed nesting sites.
The Trust has forged strong relationships with neighbouring landholders, to help keep stock away from key nest site locations at sensitive times and to carry out control of Southern black-backed gulls, which predate on threatened bird eggs and chicks.
It is also developing relationships with local rūnanga and iwi and is working on a Cultural Heritage and Biodiversity Programme alongside Te Rūnanga o Ngāi Tahu to increase cultural and historic knowledge within the Trust and wider community.
Outreach and community engagement is another priority and the Trust works alongside recreational and tourist operators, the local school and as a well-established volunteer programme. The Trust holds annual residential field-course on plant and animal survey techniques. These inspire future environmental caretakers, raise awareness about the importance of biodiversity and encourage biological recording.
While still early days, the Aspiring Biodiversity Trust is making great strides towards restoring indigenous biodiversity and connecting people with nature.
Background on the Aspiring Biodiversity Trust
Established in 2017, the Aspiring Biodiversity Trust is relatively new however the earliest baseline status of birdlife within the area was carried out by the late Peter Child, between 1978 and 1984. 
The Department of Conservation, Otago Regional Council and a range of other funders have also provided grants to assist the Trust's threatened-species projects. This funding supports a wider threatened species focused project for the Makarore Catchment from Ridge To River whereby LINZ funding sits beside other private and public sources.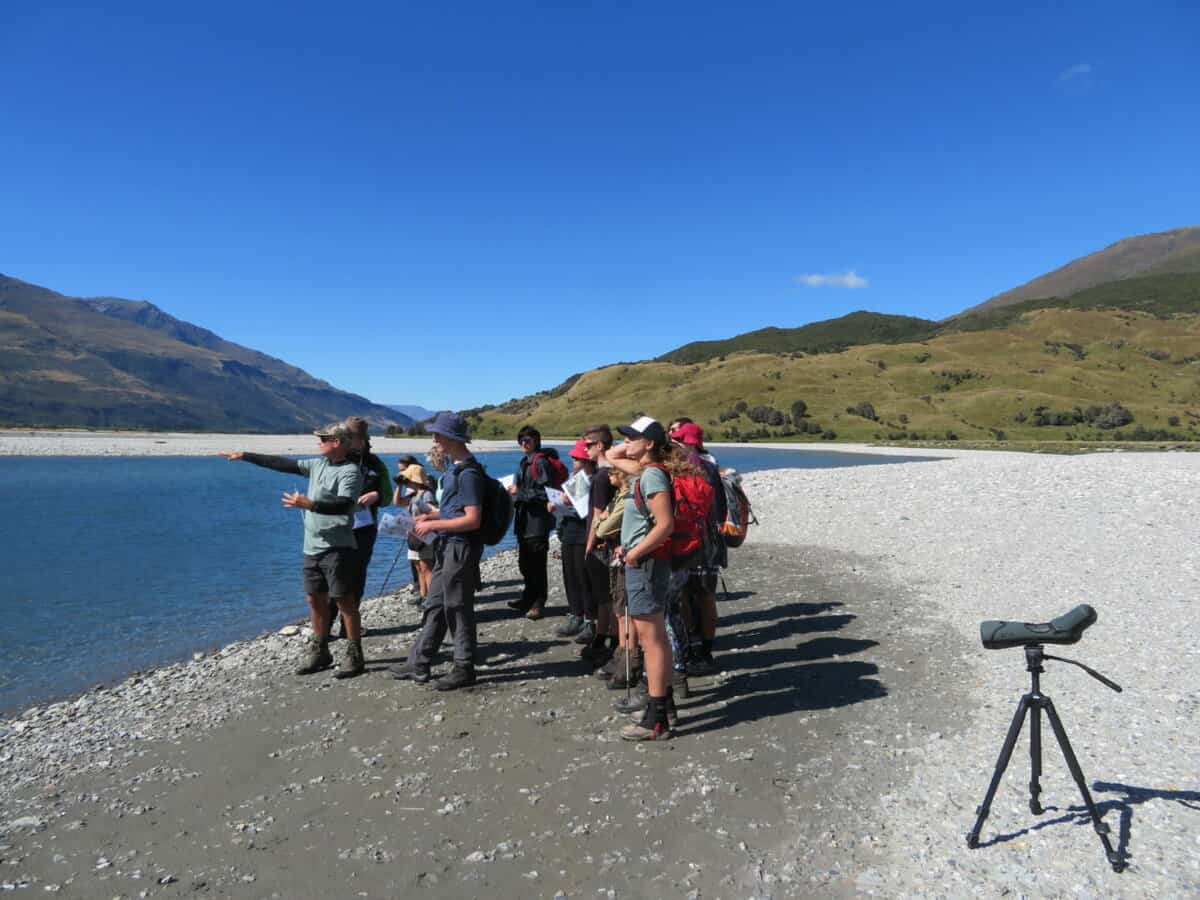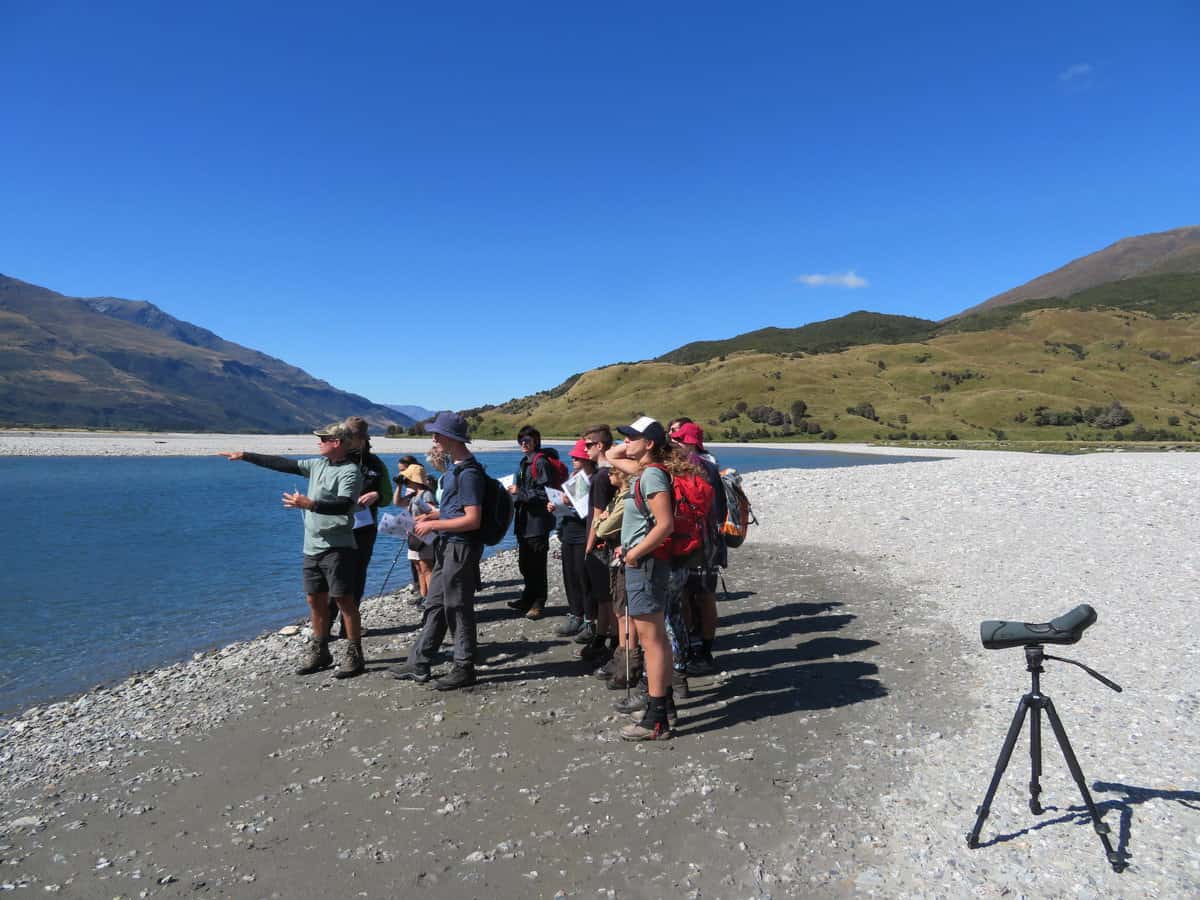 Image: Aspiring Biodiversity Trust.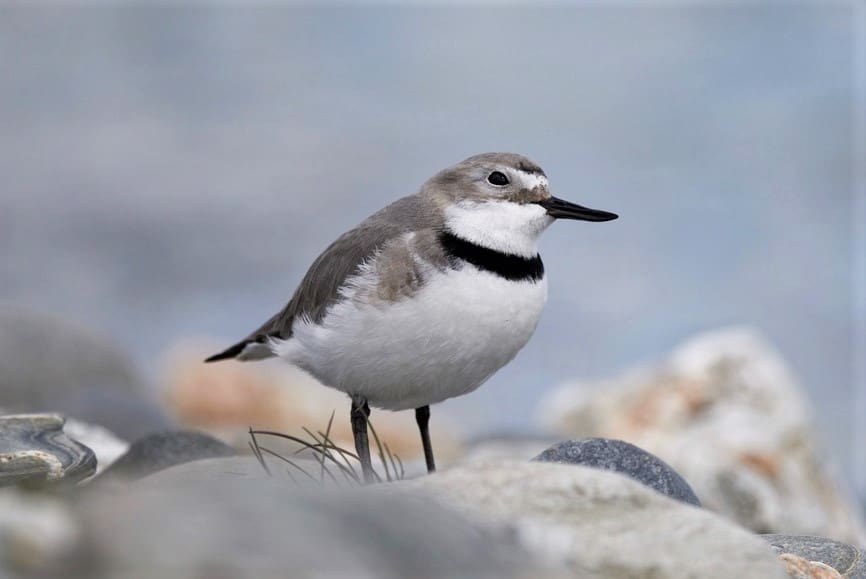 Image: Wrybill at Makarora/Makarore River Aspiring Biodiversity Trust.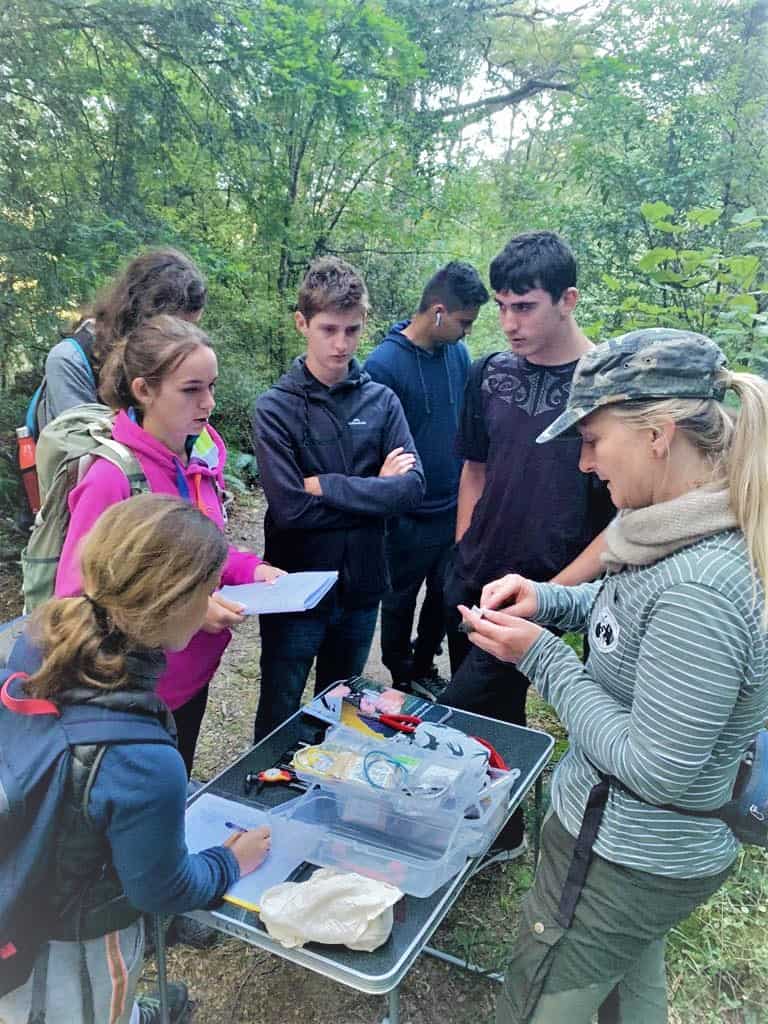 Image: Banding demo for pupils led by Aspiring Biodiversity Trust volunteers.