Cawthron Marlborough Environmental Award winners announced
27 April 2021
Marlborough Sounds Restoration Trust has been announced as the Supreme Award Winner at the 2021 Cawthron Marlborough Environment Awards, held on Friday 23 April in Blenheim.
The Marlborough Sounds Restoration Trust's wilding pine programme has had a huge impact on the landscape of the Sounds as they work to restore native bush. Working with Sounds landowners, Council, Government agencies and sponsors, the Marlborough Sounds Restoration Trust raises funds to hire contractors to get rid of the wildings. The judges were impressed by the Trust's ability to connect with the community and raise funds and in-kind donations.
Cawthron Institute, New Zealand's largest independent science organisation, is proud to support these Awards, which showcase and celebrate Marlborough community and business projects that protect and enhance the environment.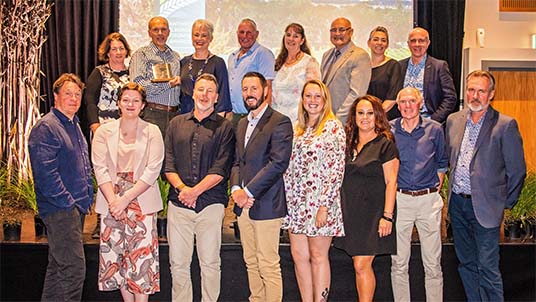 The 2021 Cawthron Marlborough Environment Award category winners.
"Cawthron congratulates all entrants who share our values for building a better future," said John Palmer, Cawthron Institute Trust Board Chair.
"Cawthron Institute is committed to Te Tau Ihu. Our association with Marlborough goes back many decades and some of our important research is based here. At Cawthron we are proud of the positive difference Cawthron's work makes to New Zealand's economy and environment. Many entrants for the Cawthron Marlborough Environment Awards are working hard to achieve the balance between protecting and utilising the environment and we applaud them for their commitment."
The Awards began in 1997 following a conversation between Federated Farmers, Department of Conservation and Marlborough District Council. It was during the early days of the Resource Management Act and the organisations were looking for good examples of environmental initiatives that could inspire others, and the idea to recognise businesses and community projects going the extra mile to look after the environment was born.
Fast forward to now and the event has been running for 24 years, during which time 296 organisations have entered and 84 winners have been celebrated. For many, entering the Environment Awards allows them to see their operations through a fresh set of eyes, and the detailed judging report gives them inspiration and ideas for the future.
This year there were 26 entrants across seven categories. Judges were looking for entrants who protect and enhance the environment and use resources and energy efficiently. The 2021 winners are:
• Wine Industry: Lawson's Dry Hills – Continuous improvement to reduce environmental impact.
• Community Innovation: Marlborough Community Gardens – Growing food and connecting people.
• Marine: Marine Farming Association – Restoring Pelorus Sound mussel beds.
• Business Innovation: Pinoli Premium Pine Nuts – Creating a business adapted to climate change.
• Farming: Mount Oliver – Transformation of a Marlborough Sounds dairy farm.
• Forestry: OneFortyOne Kaituna Sawmill – Cutting back their carbon footprint.
• Landscape and Habitat Enhancement: Marlborough Sounds Restoration Trust – Community action on wilding pine control.
Following the Awards, category winners share their knowledge and experience through a series of public field days, which provide excellent networking opportunities for businesses to meet others who are at the top of their game in the region. The Field Days are free and open to everyone and will run from April to November 2021.