Get to know your rivers on new LAWA website
19 March 2014
A new website launched this week is a great tool for people wanting to find out what is really happening in their local waterways.
The Land, Air, Water Aotearoa (LAWA) website shares environmental information from councils throughout New Zealand in one place and in an easy to understand format. The first stage of the long-term project focuses on rivers, with state and trend data displayed for more than 1100 freshwater monitoring sites. Watch the introductory video.
"Good information is key to good decision making and this new website is a great tool to help communities understand what's happening in their rivers and get more involved in caring for them," Cawthron Institute freshwater scientist Roger Young says.
The LAWA website is a collaboration between New Zealand's 16 regional and unitary councils, the Ministry for the Environment, Cawthron Institute and Massey University, with support from Tindall Foundation.
Within LAWA, Cawthron scientists have provided advice around website development and content and also provided expertise to validate the way the data is collected, processed and analysed.
"We're excited to partner with regional councils and the Ministry in what we see as a truly innovative project bringing complex science into an easily accessible and understandable format," Cawthron Institute Chief Executive, Professor Charles Eason, says.
"Many people can so often be put off by overly complex scientific information but we believe LAWA has simplified the science and allows everyone to connect with what's going on in their river. This is a fantastic initiative for New Zealanders and we applaud all those involved."
Fran Wilde, chair of the Regional Council Sector Group says the website provides a wide range of information that will help New Zealanders make good choices about using and enjoying our highly valued resource – fresh water.
"Never before has there been such a focus on the state of New Zealand's freshwater.
Freshwater is a vital asset to our country and its important that the public can see and understand for themselves the state of a particular river or catchment and how it may be affected by what's going on around it," Ms Wilde says.
LAWA also allows people to share information about what's happening in waterways. Users can share news, report pollution or promote clean-up or riparian planting days. They can also compare rivers and check if water quality is improving or not.
"This is more than just a place to present data, it's for people to use, enjoy and contribute to. We'd love people to share their own stories about their local waterways on the site," Dr Young says.
"The website will also be an excellent resource and tool for organisations and communities throughout New Zealand that are working to improve and maintain the health of our precious rivers."
Cawthron Institute is a New Zealand leader in freshwater sciences with expertise in river health assessment, catchment management and the requirements for in-stream flows. Cawthron scientists provide advice and research services on everything from water quality and fish habitats through to understanding how river and lake ecosystems function and how to protect and rehabilitate them.
Work is now underway on developing LAWA's next modules which will be water quantity and coastal water quality. Find out more about LAWA at www.lawa.org.nz.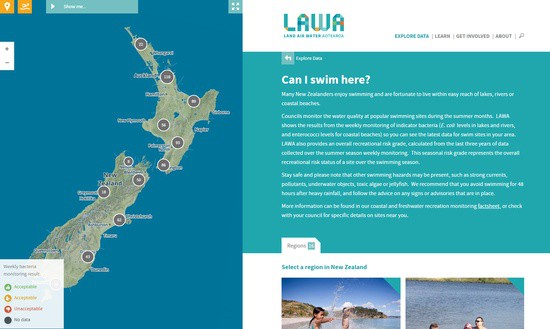 Screengrab of LAWA's 'Can I swim here?' module