Are New Zealand native Pyropia and Porphyra seaweeds (karengo), an opportunity for creating high-value foods from alternative proteins?
By Tom Wheeler
16 August 2022
This piece was originally published in the June/July issue of Food New Zealand Magazine.
In today's changing world, the sustainability of conventional approaches to food production is increasingly being questioned, and consumers are looking to make better ethical choices without compromising their eating experience. Alternative sources of protein and novel foods are entering the mainstream as consumers look for choices that tantalise their taste buds while also saving the planet. So, will the future of food be chowing down on a delicious juicy steak or burger that has all the consumer appeal and nutritional profile of the real thing without your meal having seen the inside of an abattoir? Could certain varieties of seaweed native to Aotearoa/New Zealand be part of the answer to this challenge? Maybe so, suggests a collaboration of researchers from four New Zealand research organisations and two research institutes in Singapore, as well as Wakatū Incorporation, based in the Te Tauihu region (top of the South Island), and Te Rūnanga o Ngāi Tahu, whose rohe covers the rest of the South Island.
Karengo – a native variety of nori with potential as a high-value food ingredient.
The research team, comprising researchers from Cawthron Institute in Nelson, the Riddet Institute at Massey University in Palmerston North, Plant&Food Research at Palmerston North and the University of Auckland, along with two research institutes in Singapore, are investigating how to unlock the nutritional and health-promoting potential of a group of red seaweeds from the genera Pyropia and Porphyra. This group of seaweeds includes nori, familiar as the wrapper for sushi, as well as a number of species found only in New Zealand and which are a traditional food of Māori, known as karengo or parengo. Each research institute is contributing their distinct expertise in seaweed biology and food analysis, food processing, protein extraction from terrestrial plants, and food science to create an international multidisciplinary team, the likes of which have not previously been applied to this challenge.
"Karengo has great potential as a high-value functional food and a unique food ingredient," says the team's leader, Dr Tom Wheeler of Nelson's Cawthron Institute. His research team at Cawthron has previously investigated the chemical composition of several species of karengo through a two-year programme funded by the High-Value Nutrition National Science Challenge. The team found that karengo contains 30-35% protein as a percentage of dry weight – which could be a higher level of protein than any terrestrial food plant, 2% omega-3 fatty acids, almost all of which is eicosapentaenoic acid (EPA), and up to 70 ug/100g vitamin B12. This last observation is of particular interest to the team, as it predicts that as little as a 5 g snack of karengo would provide the recommended daily allowance of this vitamin. This is particularly relevant for vegans, who often have difficulty obtaining adequate levels of vitamin B12 through their diet. "One day karengo extracts could be the basis of meat substitutes which look and taste like the real thing as well as providing a good nutritional substitute for meat. The karengo protein extract even has a meat-like red colour" adds Dr Wheeler.
Working with Wakatū Incorporation and Te Rūnanga o Ngāi Tahu is critical to realising this long-term goal, particularly as karengo is regarded as a taonga species. "We hope that one day we will be marketing high-value health-promoting products to niche overseas consumers based on sustainable low-impact aquaculture of karengo here in Te Waipounamu," says Wakatū Incorporation's Chief Scientist, Professor Charles Eason.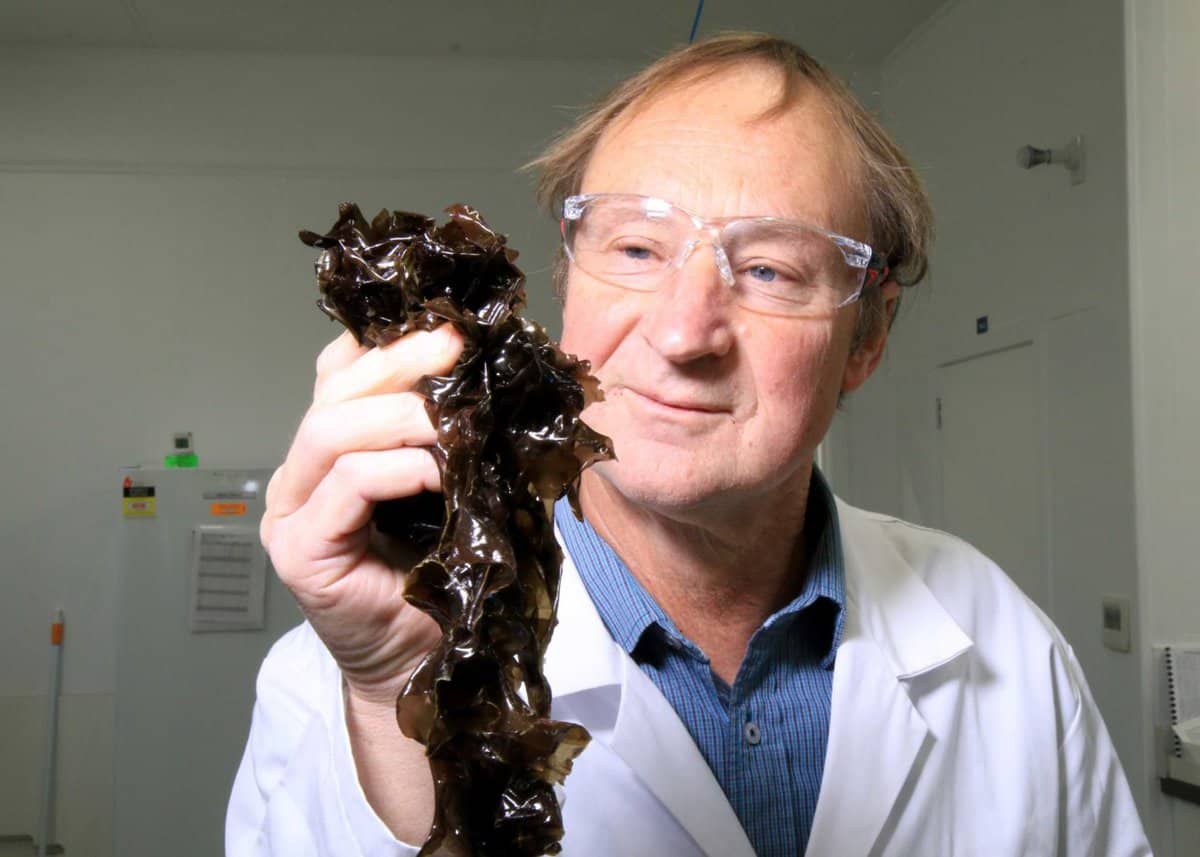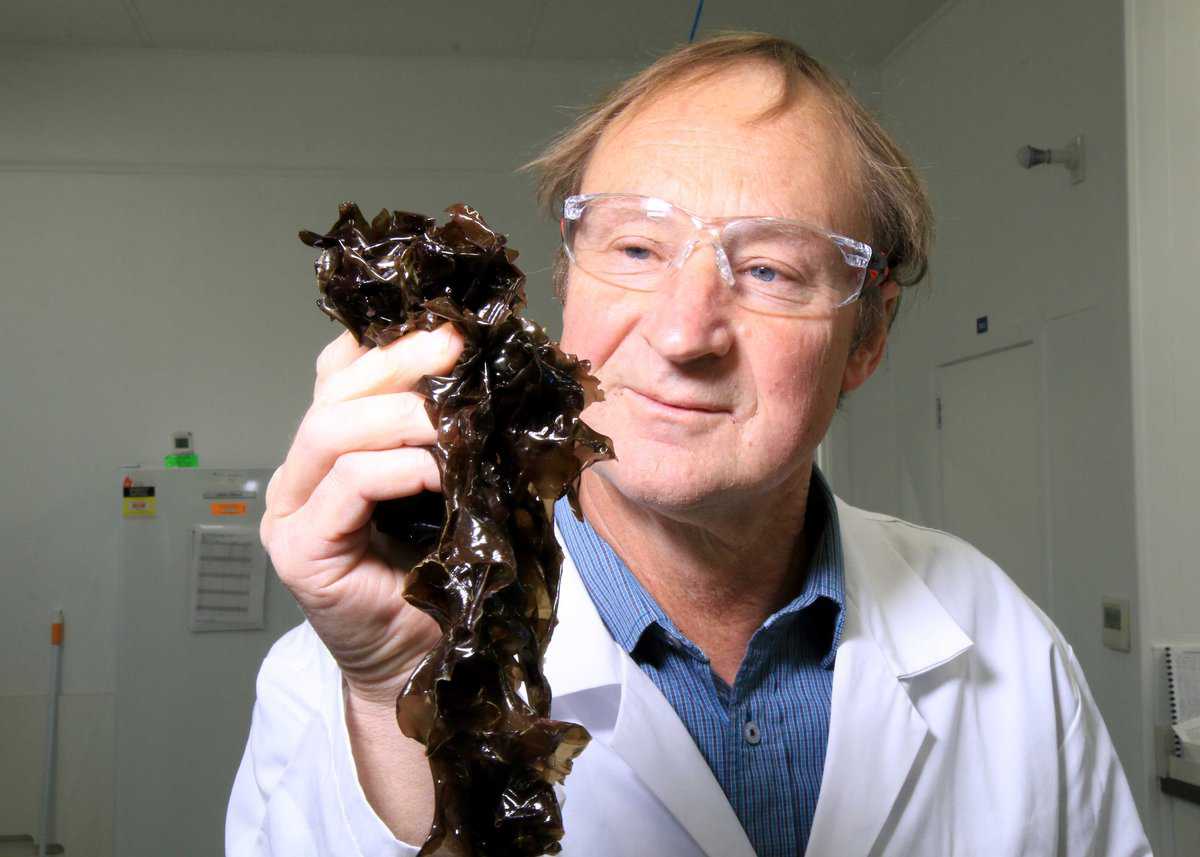 Dr Tom Wheeler, with a typical blade of karengo.
Karengo (Pyropia cinnamomea) in its natural environment.
Processing to extract protein from Pyropia/Porphyra seaweeds.
In their latest research, the team has focused on unlocking the potential of karengo protein through processing. They have joined forces with some of New Zealand's prominent food science and technology institutes to devise and implement a process at the pilot plant scale to produce a protein-enriched extract and evaluate its attributes. The project also will assess the digestibility and bioavailability of the protein and the physico-chemical attributes of the extract.
"The goal of our collaboration is to create a novel food ingredient in which the protein is easily digested and yet retains some of the beneficial attributes of the whole karengo," says Dr Arup Nag, who leads the Riddet Institute section of the team. To avoid difficulties in supply of biomass for New Zealand native species of Pyropia or Porphyra, the team has obtained a large quantity of food grade dried Porphyra umbilicalis from a commercial source, working with New Zealand-based seaweed importer and retailer, Pacific Harvest. The team has used this material to investigate the effect of a range of parameters, including rehydration conditions, pH, particle size reduction and enzymatic digestion on the yield of protein extracted into the aqueous phase during extraction. This has resulted in yields of up to 50% of the total protein being extracted at the lab scale. "This is actually quite an impressive achievement," says Dr Wheeler, "as a similar project in Europe extracted only 20% of the protein present".
However, transferring a lab-based procedure to a pilot plant scale process is often challenging, and this indeed proved to be the case with Porphyra protein extraction. The team has had to adapt to the limitations of processing at this scale, with problems being encountered in a number of areas, including particle size reduction, phase separation and drying. "Understanding how to handle this type of seaweed at the pilot plant scale has proved to be a real challenge, and we have had to be innovative," adds Dr Lee Huffman, the lead researcher from the Plant&Food Research Institute who is contributing to the programme. Nevertheless, the team has established a process that has produced 4 kg dry weight of extract, of which 50% is protein and 40% is soluble dietary fibre. "We expect that the process could be applied to New Zealand karengo with very similar results" says Dr Wheeler. However, there is still some way to go to establishing commercial viability. The protein yield was low compared with the lab-scale procedure, and some value would need to be realised from the side streams produced. "The efficiency of the process would need to be improved and a business case developed before we could say it is ready for implementation on a commercial scale" says Prof. Eason of Wakatū.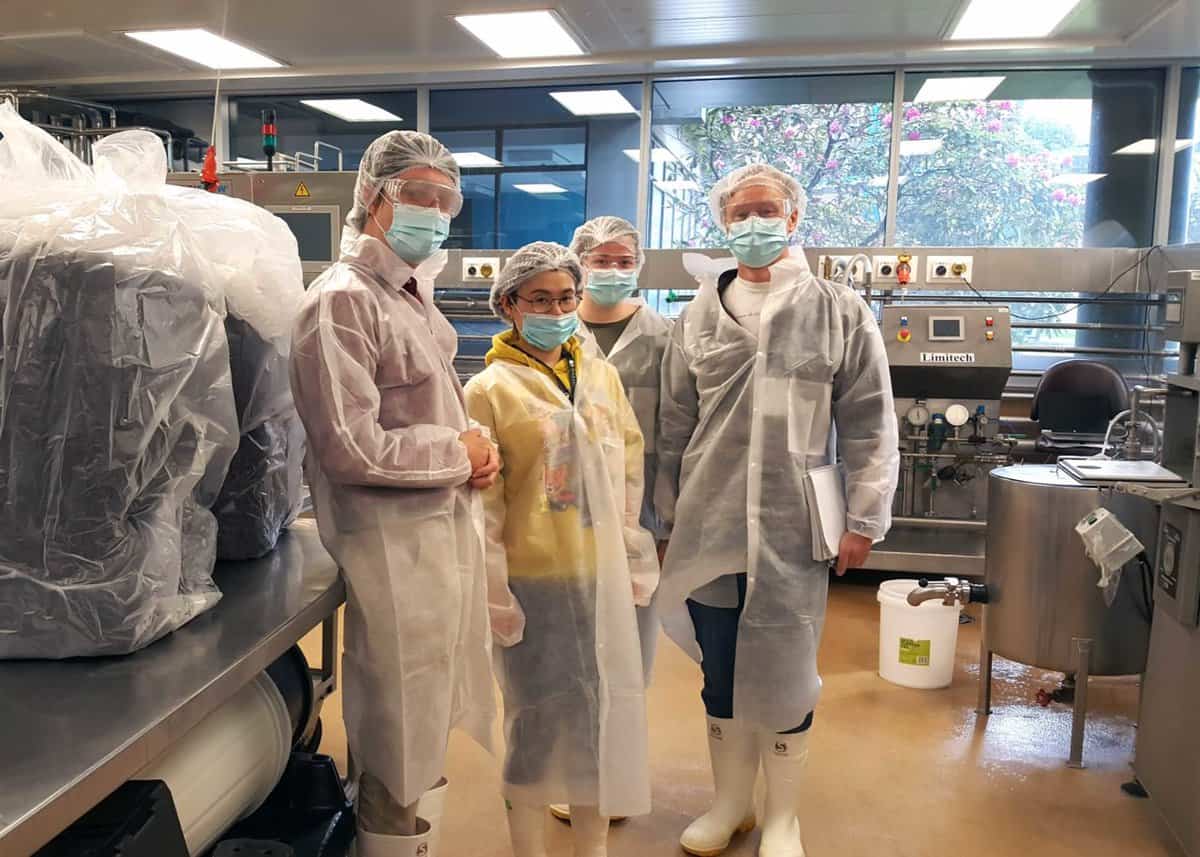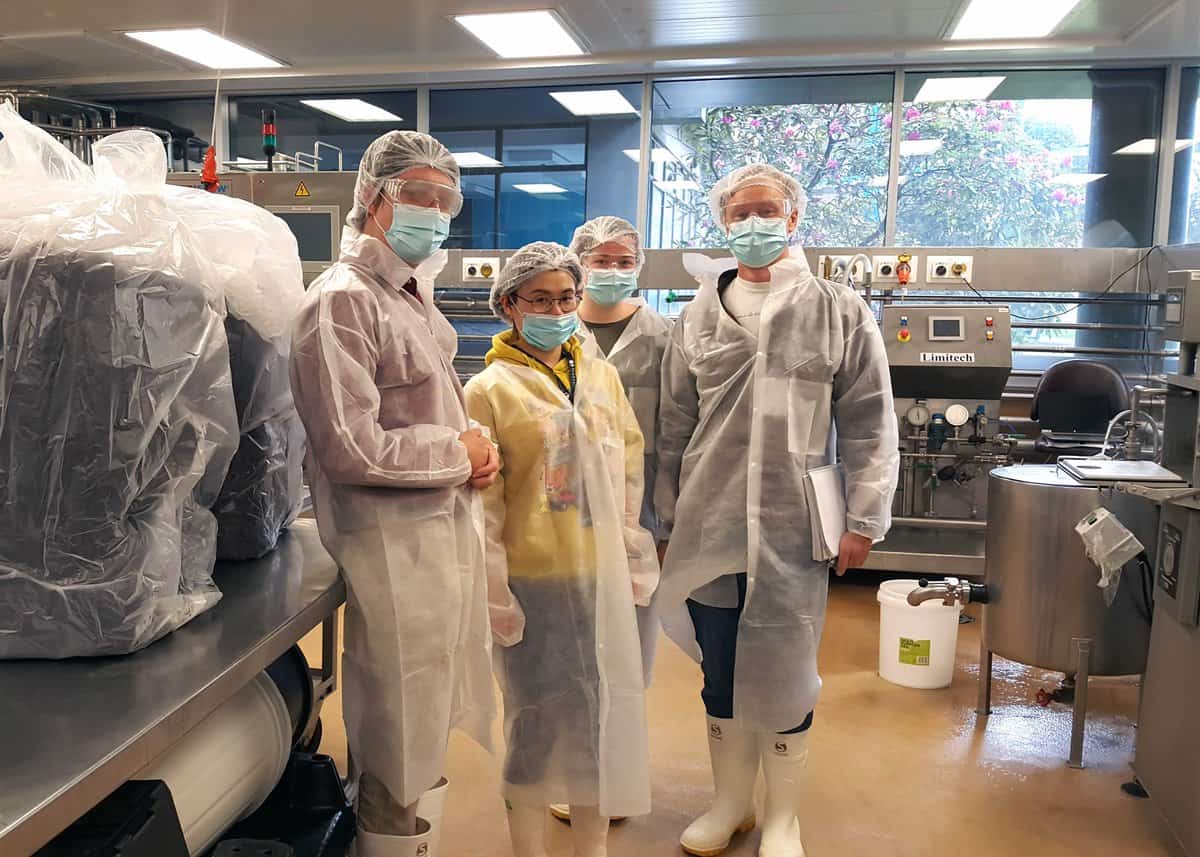 Some of the pilot plant extraction team with P umbilicalis starting material; left to right – Joshua Fitzgerald, Alice Mao, Tahlia Trembath and Tom Wheeler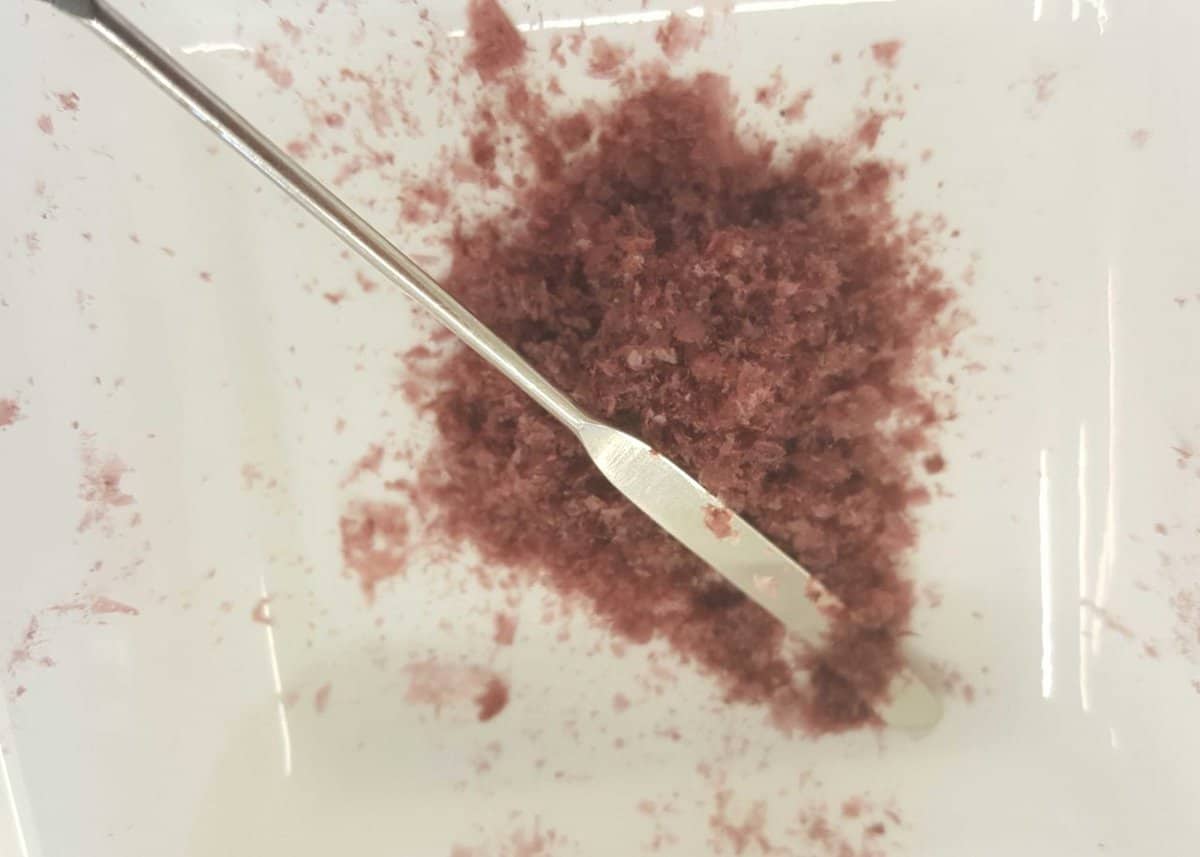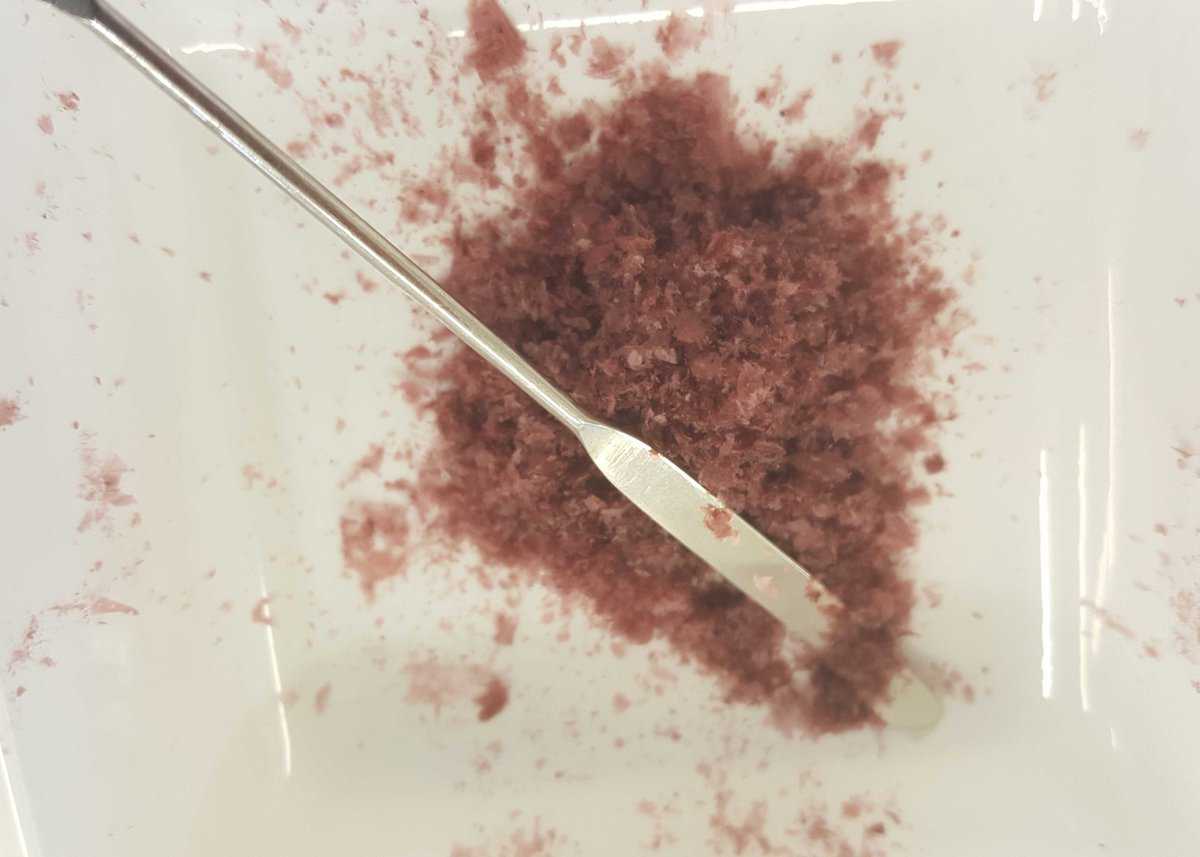 A sample of protein-enriched P umbilicalis extract powder.
Assessing the extracts properties.
Besides its composition and bioavailability, the value of the seaweed extract as a food ingredient will also depend on how it performs as an ingredient in food manufacture. To address this, the University of Auckland researchers are investigating a range of physico-chemical properties of the extract. "We are excited to be working with this material," says Dr Siew-Young Quek. "Already we can say that the extract has unique and interesting characteristics that could be desirable as a novel food ingredient," she adds. The Auckland team is assessing a range of attributes that will be the basis of specification sheets and pointers for particular food applications. Already, the distinctive red pigmentation of the extract and its foaminess, are sparking ideas within the team. "One example of what might be possible is an ingredient providing the red colour for meat substitutes – other possible high-value end uses include novel health-promoting tonics, snack bars, or soup-based products," says Dr Wheeler. "Further work on the extract's attributes, including joining forces with consumer perceptions researchers, will reveal the best route to market," he adds.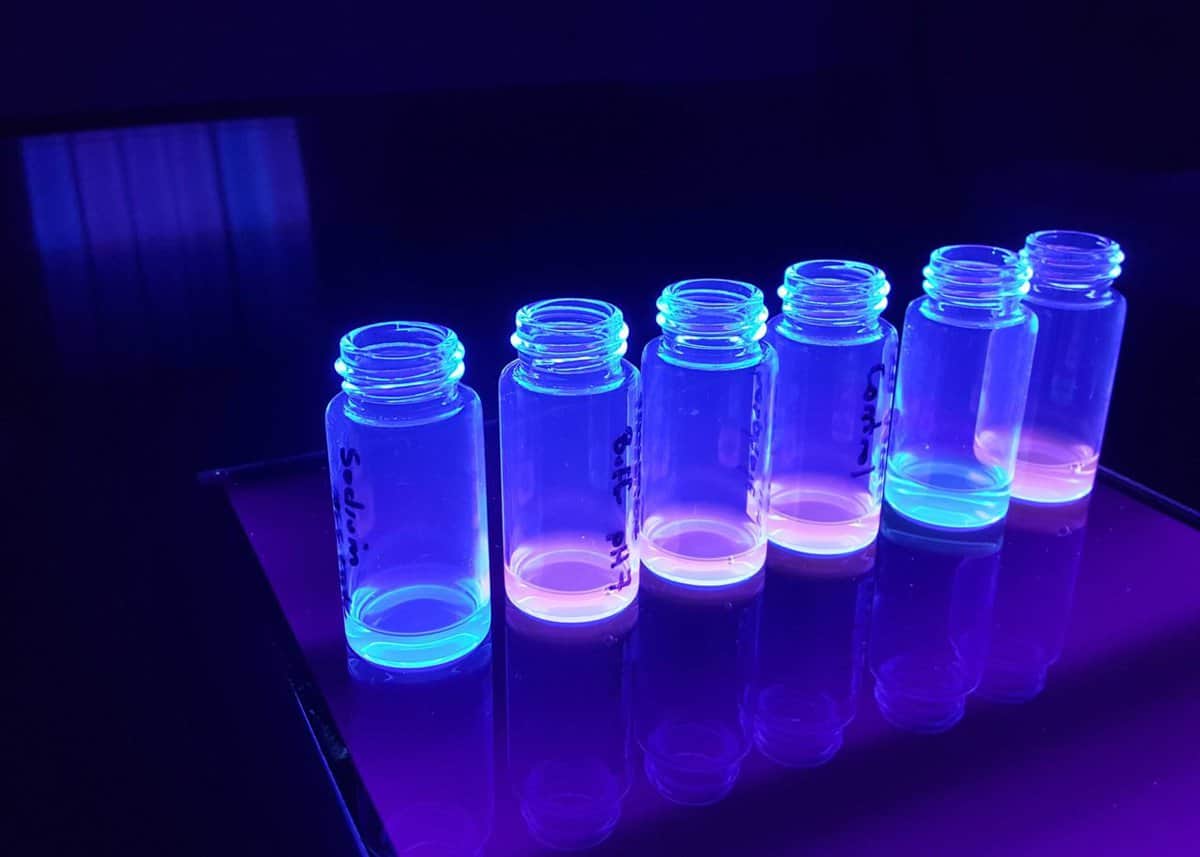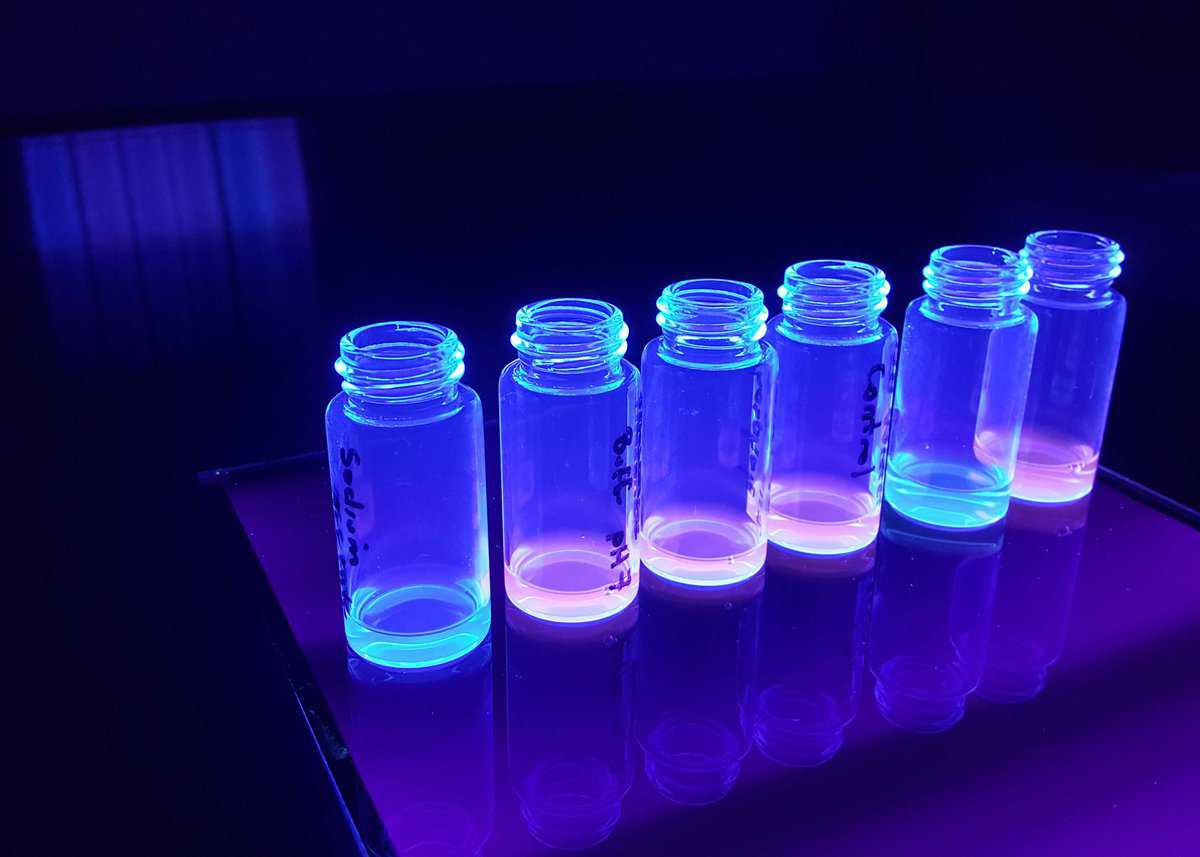 Fluorescence of P umbilicalis extract under UV illumination. Tubes 2, 3, 4 and 6 from the left contain extract.
Are seaweeds the next superfood?
It is too early to tell from this research. However, the team is taking the first steps to address whether the Pyropia and Porphyra genera of seaweeds confer health benefits beyond nutrition. Through a collaboration with AgResearch they have already shown that the metabolome of karengo species is complex and dynamic, and in two separate collaborations with Malaghan Institute in Wellington and the University of Hokkaido in Japan, the team has discovered that extracts enriched for bioactive metabolites such as polyphenols show both anti-inflammatory and immune-boosting activities in cell culture models. As part of their joint MBIE Catalyst Strategic programme with Singapore, the composition of proteins and polysaccharides in the extracts is being characterised by researchers at the Bioprocessing Technology Institute, one of the A*STAR institutes in Singapore, who are using cutting-edge methods of proteomics and glycomics to establish a link between molecules and health-promoting function in this group of seaweeds. Now the team is about to embark on their most ambitious step, of demonstrating the beneficial effects of digestive function and energy metabolism in people through a clinical trial. "We hope this clinical trial will be the first in a series that will need to be done to provide convincing evidence for the health-promoting effect of karengo," says Dr Wheeler.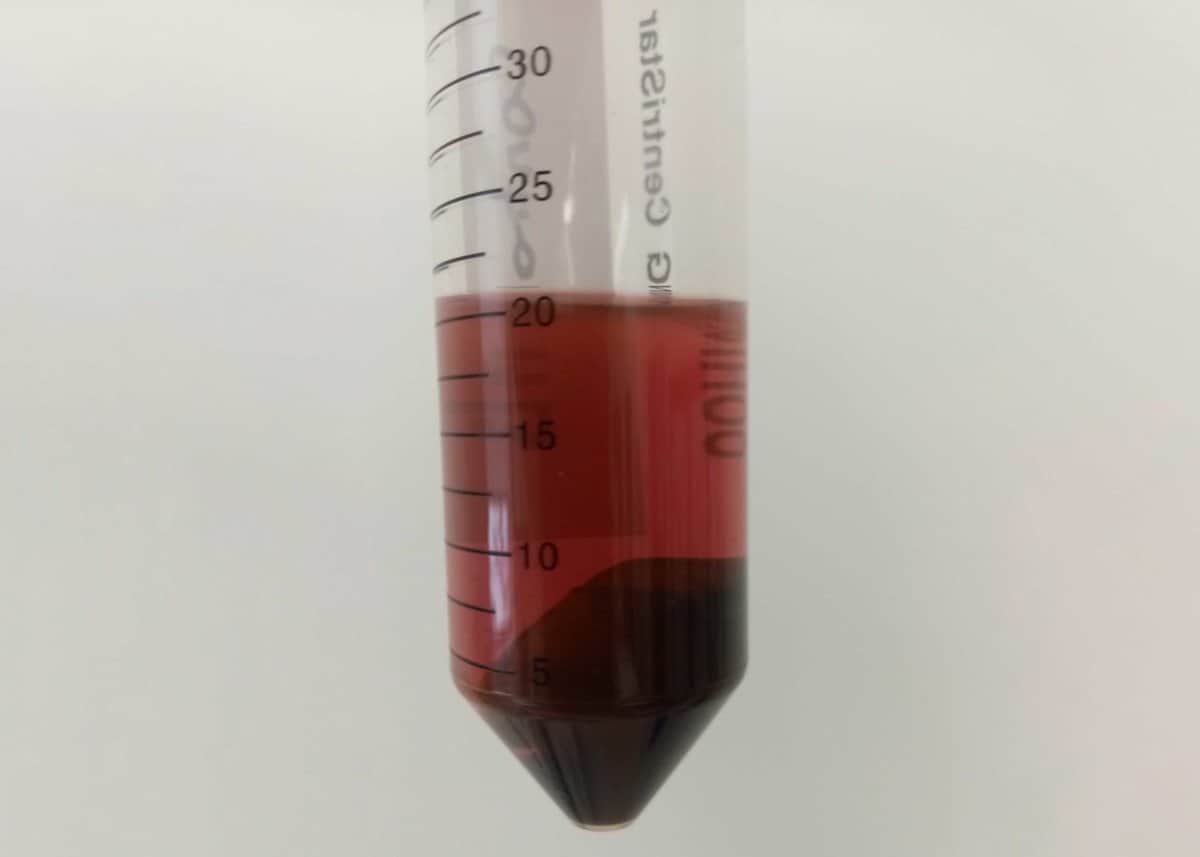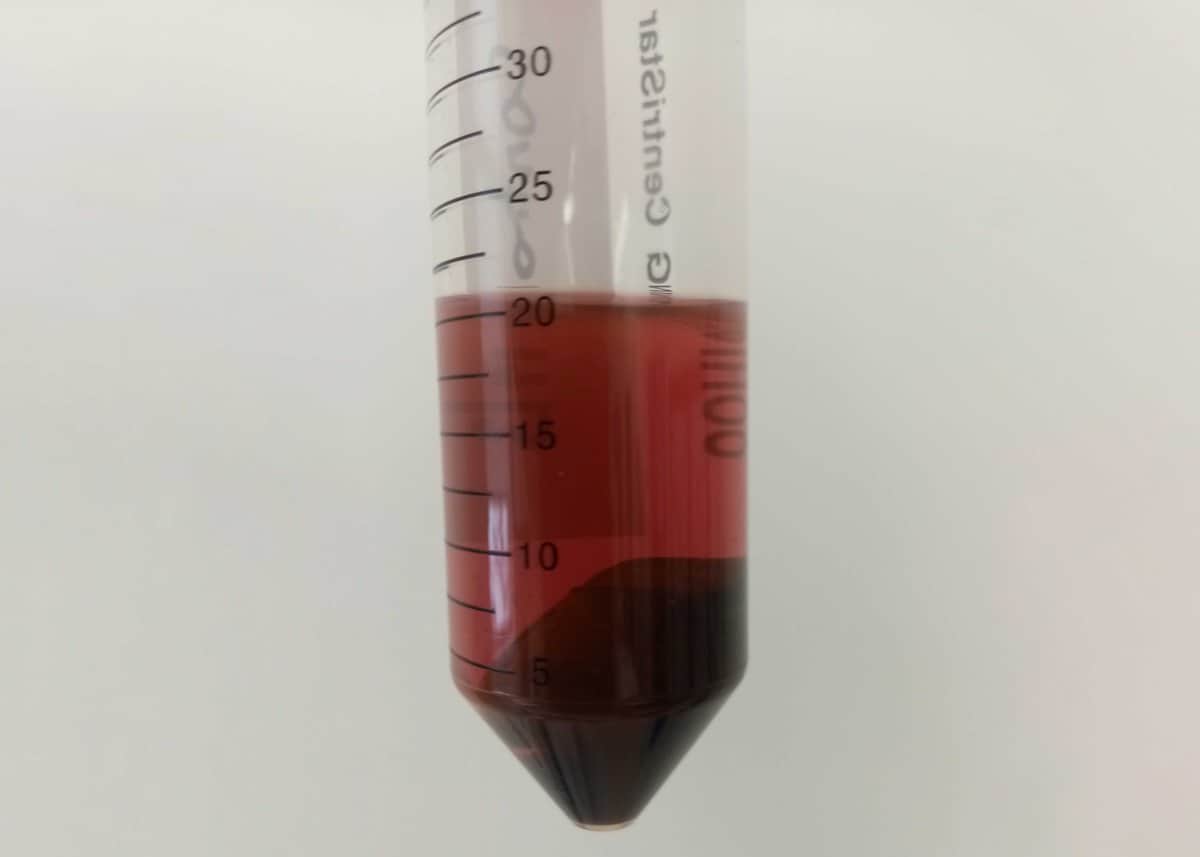 Lab scale extract of P umbilicalis after centrifugation of homogenate.
Karengo farming in New Zealand
So, is this the start of a thriving karengo industry in New Zealand? "That depends on many other things besides these research programmes," says Dr Wheeler.  Worldwide, the amount of wild-harvested seaweed is in decline, while production of some species by aquaculture is on the rise. "We need to learn how to produce seaweeds sustainably in New Zealand," he says.  "Surprisingly little is known about the reproductive biology, ecological and environmental constraints on the growth of karengo".  The team is keen to better understand the life cycle of New Zealand native Pyropia and Porphyra species and to bring to bear overseas expertise on related species such as nori, with a view to establishing their production through aquaculture.  
Another hurdle to establishing a karengo industry in New Zealand is the current regulatory framework, which is not well suited to establishing seaweed farms.  The opportunities, challenges and selected case studies for development of seaweed production are being developed through a programme funded by the Sustainable Seas National Science Challenge, called 'Building a Seaweed Sector' (https://www.sustainableseaschallenge.co.nz/our-research/building-a-seaweed-economy/), to which the research team is also contributing.  "I hope that these advances in knowledge, together with increased research and investment funding support for the sector, will pave the way to commercial-scale production of karengo with high value based on its unique attributes combined with kiwi innovation and following tikanga Māori for this taonga species," says Dr Wheeler.  This goal aligns well with the New Zealand government's Aquaculture Strategy, published in 2019, which sets a target of establishing a $3 billion industry by 2030, thereby diversifying the nation's economy and reducing reliance on traditional products and markets.  "The future of karengo looks bright," concludes Dr Wheeler.