Microalgae being explored as potential future food
Cawthron Institute has teamed up with biotechnology nutrition start-up NewFish, and Nelson-based marine engineering firm Kernohan Engineering to explore the nutritional properties of microalgae.
The project will see around 100 strains of microalgae from Cawthron's globally significant Culture Collection investigated for nutritional properties and ease of production that could open up new sustainable protein industries across Aotearoa New Zealand.
"The aim of this project is to identify the best microalgae strains, and then produce them at scale so they can be processed into alternative protein and other ingredients for functional foods," said Cawthron Science Impact Manager Dr Johan Svenson.
"There are thousands of microalgae species and within each species there are multiple strains, yet only a few strains have been studied in depth. Cawthron Institute is home to a treasure trove of more than 600 species in our microalgae Culture Collection, so we are potentially sitting on a lot of untapped opportunity.
"Cawthron has more than 30 years of algae research expertise, and during that time we have developed a cultivation method that can increase certain algae production, enabling efficient production and development here in Aotearoa New Zealand," said Dr Svenson.
NewFish CEO Toby Lane said that certain microalgae were known to be rich and complete nutrition sources for people, and is a sustainable, high-quality protein source that could signal the start of whole new protein sector.
"We believe that microalgae have huge untapped potential as a core source of human nutrition. The nutritional credentials of some microalgae strains are on par with animal alternatives, yet the environmental impact is microscopic in comparison. The next step is to show the world how delicious microalgae is, so we're working on a range of applications, starting with bars and drinks targeting active and sports nutrition markets."
The advantage of microalgae is that it can be grown using a fraction of the resources that traditional food sources use, and they can be grown in bioreactors without taking up natural or arable farmland. That's where Kernohan Engineering expertise comes in, helping to develop production systems that enable the flexible and sustainable production of green protein for the future.
"Feeding another 2 billion people by 2050 is a global challenge that concerns us all. We see this exciting partnership with Newfish and Cawthron as an opportunity to solve a problem that matters, while simultaneously building on New Zealand's reputation as a global leader in the production of high-quality food and nutrition," said Kernohan Chief Executive Paul Miller.
The Government is investing $750,000 in the $1.5 million project through the Ministry for Primary Industries' Sustainable Food and Fibre Futures fund (SFF Futures), with NewFish and Kernohan contributing the balance.
Minister for Oceans and Fisheries Rachel Brooking announced the funding at Cawthron's Algal Centre this week and said the Government is backing investigations into a potential new food industry for New Zealand.
With global food demand expected to increase 60 percent by 2050 according to estimates by the Food and Agriculture Organization, Minister Brooking said food supply already faces a range of threats such as climate change, geopolitical tensions, pests and diseases.
"That's why the prospect of developing microalgae as a food source is exciting. It is a low-carbon protein which can be grown sustainably in bioreactors on land.
"Microalgae have caught the attention of scientists around the world for their extraordinary properties and potential to create an abundant, high-quality natural protein source, using only a fraction of the water, land and time of other types of farming.
"And on top of all that, the process of growing them captures carbon out of the air and stores it – the very thing we need to do to keep climate change under control and meet our emissions-reduction commitments." Rachel Brooking said.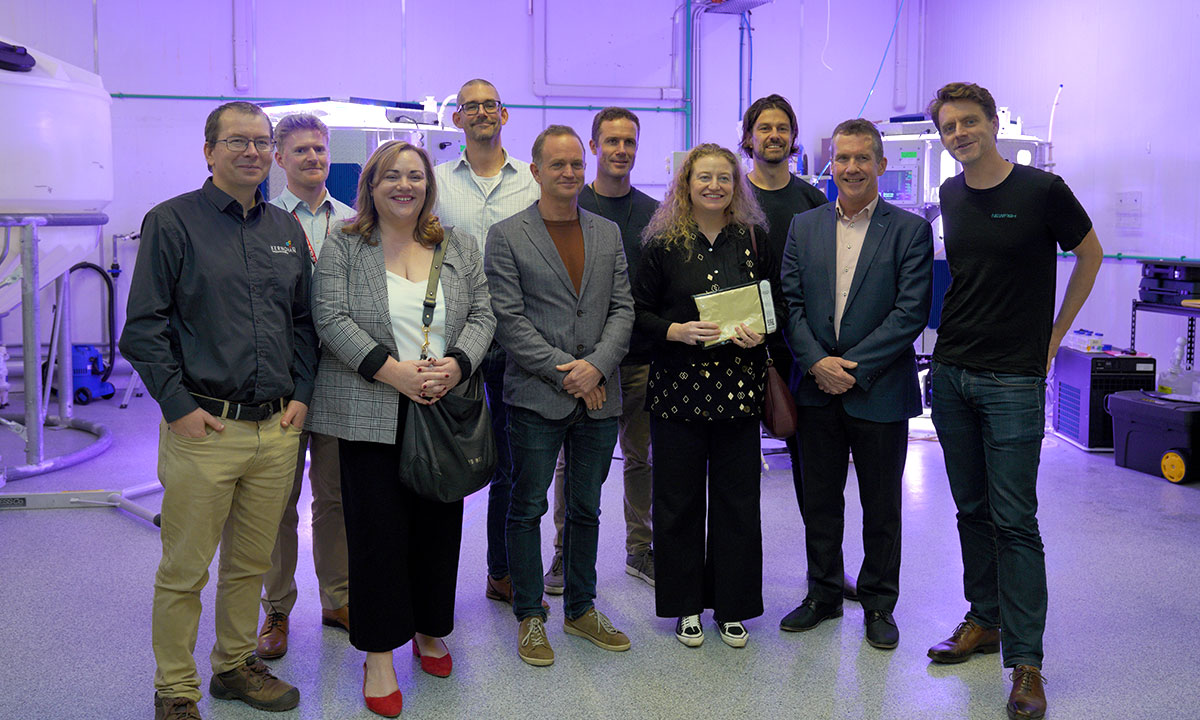 Image: Cawthron Institute. Representatives from Cawthron, Kernohan, and NewFish with Minister Rachel Brooking and Nelson MP Rachel Boyack.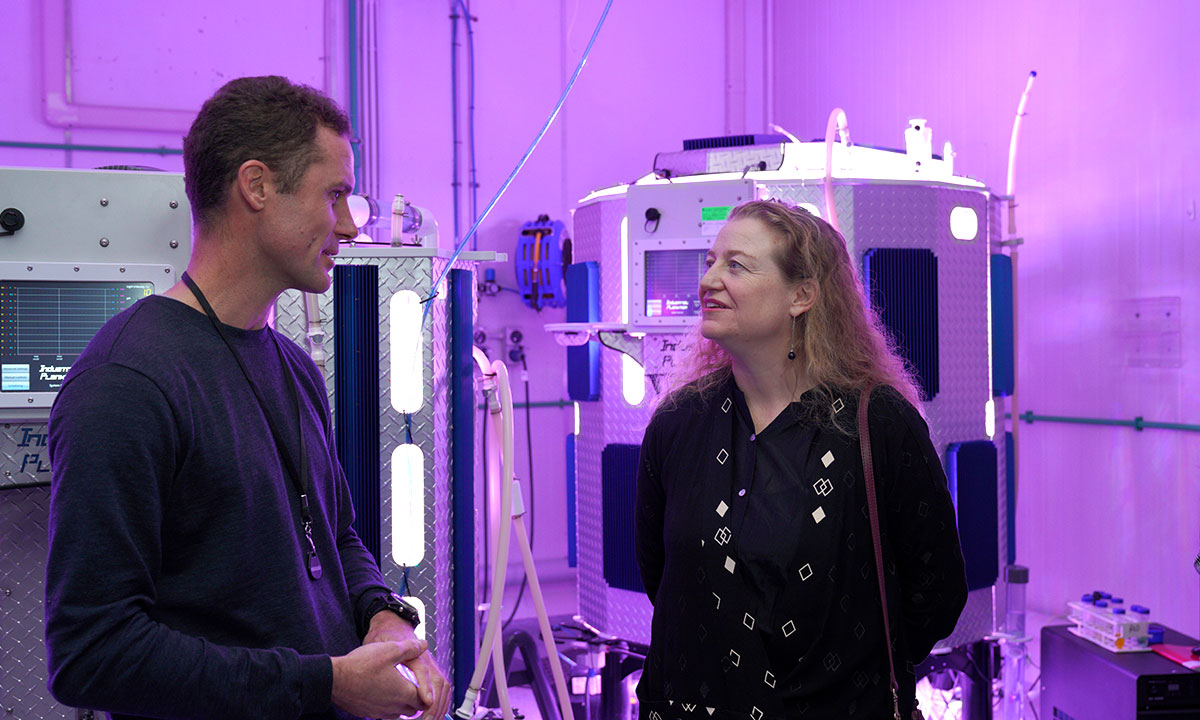 Image: Cawthron Institute. Cawthron Bioactives Team Leader Andy Selwood with Minister for Oceans and Fisheries Rachel Brooking.