Nelson students visit Cawthron for luncheon celebrating women in science
15 February 2021
Whaowhia te kete mātauranga – Fill your basket of knowledge.
A group of promising senior students from across Nelson joined scientists at Cawthron Institute last Thursday 11 February to celebrate the International Day of Women and Girls in Science. 
Senior students from Nelson College for Girls, Waimea College and Nayland College had the opportunity to speak with Cawthron scientists over lunch before taking a tour of Cawthron laboratories.
Meg Matthews, Chairperson of Cawthron's Board of Directors, acted as host for the luncheon, and said the invitation was extended in the hope that the students' ideas about what a career in science might look like could be broadened.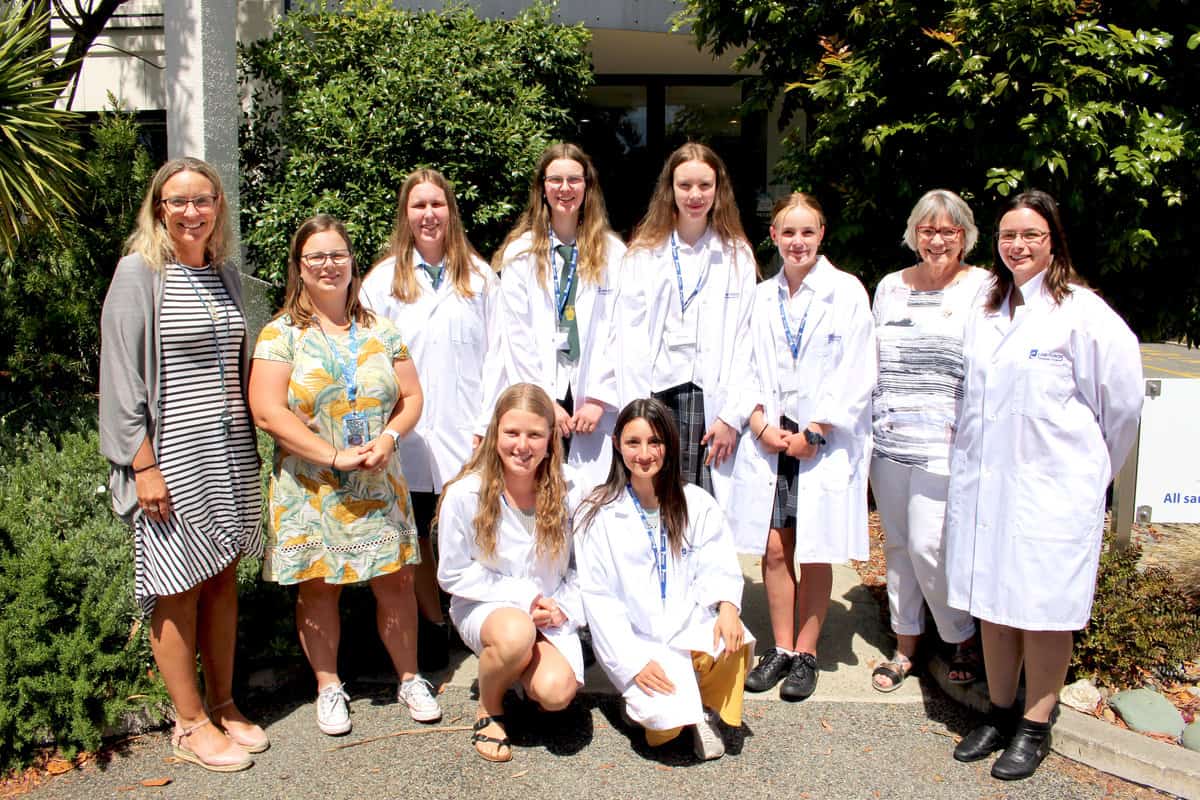 Budding talent – a group of Nelson students are given a tour of Cawthron's Halifax Street laboratories on the International Day of Women and Girls in Science. From left: Dr Serean Adams (Cawthron), Simone Jarrett (Cawthron), Georgia Livingstone and Sarah Ducray (Waimea), Lucy Reith and Ella Arnold (Nelson College for Girls), Dr Lesley Rhodes and Dr Laura Kelly (Cawthron) and in front, Hannah Young and Sulma Wilson (Nayland).
"Many aren't aware of the wide range of world-leading science that happens at Cawthron and we wanted to give these students a window into a day in the life of some of Cawthron's scientists and leaders," Meg Matthews said.
Matthews encouraged the girls to keep their study broad while they were young, because they could never be sure what might grab their interest, a point seconded by Cawthron's Aquaculture Group Manager, Dr Serean Adams.
"When I began my study I thought I wanted to become a marine farmer, but I ended up becoming captivated by the potential of what science could achieve for the aquaculture industry in New Zealand and pursued a doctorate in marine science, and that ultimately led me to Cawthron" Serean Adams said.
"Cawthron regularly hosts university students through our Summer Scholars scholarship programme, and often employs high-school students over the summer, so we've always had a commitment to providing opportunities that foster young talent."
Dr Adams said Cawthron is particularly eager to ensure local young people are aware of these opportunities when they are planning tertiary study, and would encourage them to visit Cawthron's website for more information.