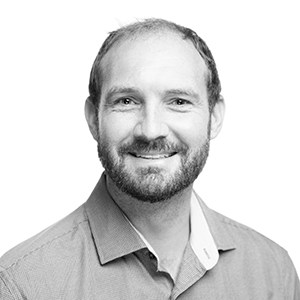 Jonathan Puddick
Team Leader- Aquatic Molecular Ecology
Role at Cawthron
Jonathan develops specialised testing methods to measure bioactives in a range of products and can assist with other analytical chemistry and biochemistry problems.
Jonathan's research focus is on harmful and helpful bioactives produced by microalgae. He works on toxic cyanobacteria (blue-green algae) which grow in waterways around New Zealand. This work is important as cyanobacteria pose a significant health risk to people and animals. Many other algae also produce beneficial bioactives and Jonathan is working to exploit these. Through this research, Jonathan aims to better understand the environmental factors which control bioactive production in algae.
Jonathan has a strong background in analytical chemistry and uses state-of-the-art liquid chromatography–mass spectrometry (LC-MS) equipment to assess a range of compounds. He also brings method development and trouble-shooting experience to Cawthron's Analytical Services team.
Technical skills, experience and interests
Analytical method development and trouble-shooting.
Purification, characterisation, and formulation of beneficial bioactives from algae.
Structural characterisation and identification of microcystins, a prevalent group of cyanobacterial toxins.
Investigation into the triggers of toxin production in cyanobacteria.
Qualifications
PhD in Chemistry. University of Waikato, 2012
MSc in Molecular Biology (First Class Honours). University of Waikato, 2006
BSc in Biology and Psychology. University of Waikato, 2004