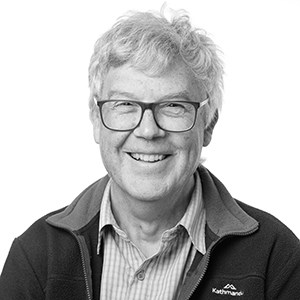 Ross Vennell
Team Leader – Oceanography
Role at Cawthron
Ross joined Cawthron in October 2016 as a Coastal and Ecosystems Team Leader and also holds an Assistant Professor position in the University of Otago's Department of Marine Science.
Ross is a physical oceanographer with over 25 years' experience focusing on coastal and shelf oceanography. He has worked in a diverse range of areas from analysis techniques to produce highly detailed measurements of tidal currents, to satellite remote sensing of the ocean. Projects have also included measuring wave drag on human swimmers and the performance of yachts in waves. 
A current project is providing fundamental knowledge on the scale of energy production from large arrays of tidal turbines. He has worked extensively with Ports to produce high resolution measurements of tidal currents to support safe operation of ships and port development. 
Technical skills, experience and interests
Oceanographic data analysis and the development of numerical methods for data analysis

Coastal and shelf ocean modelling
Long period ocean waves
Generating energy from tidal currents
Developing tools to communicate ocean data
Qualifications
PhD (Physical Oceanography), Massachusetts Institute of Technology/Woods Hole Oceanographic Institution   
BE (First Class Hons), Engineering Science, University of Auckland