Cawthron led study aims to understand microbial contamination in shellfish growing areas
27 October 2021
An ongoing study in Otago Harbour is providing important insight into how regulators and land managers can prevent and manage microbial contamination in shellfish growing areas to protect public health and the New Zealand seafood industry's reputation for high-quality.
Research leader Dr Carlos Campos, says the study is funded through the Cawthron-led Seafood Safety Research Platform and the NZ Food Safety Science & Research Centre and conducted in partnership with Institute of Environmental Science and Research Ltd (ESR) and Southern Clams Ltd. The objective of the research is to generate relevant practical knowledge to assist the shellfish industry and MPI in managing microbial risks.
"When we talk about microbial risks, we're talking about viruses and bacteria, most of which are from wastewater that makes its way into coastal areas because of septic tanks or sewer overflows, or waste discharges from boats," Dr Campos says.
"It's important to note that this risk is generally very well managed in New Zealand. In an ideal world there would be no incidents of contamination at all, but sometimes it does happen, and so seafood safety researchers, government and industry are eager to ensure every practicable step is taken to present the risk of contamination, and to reliably detect contamination when it occurs."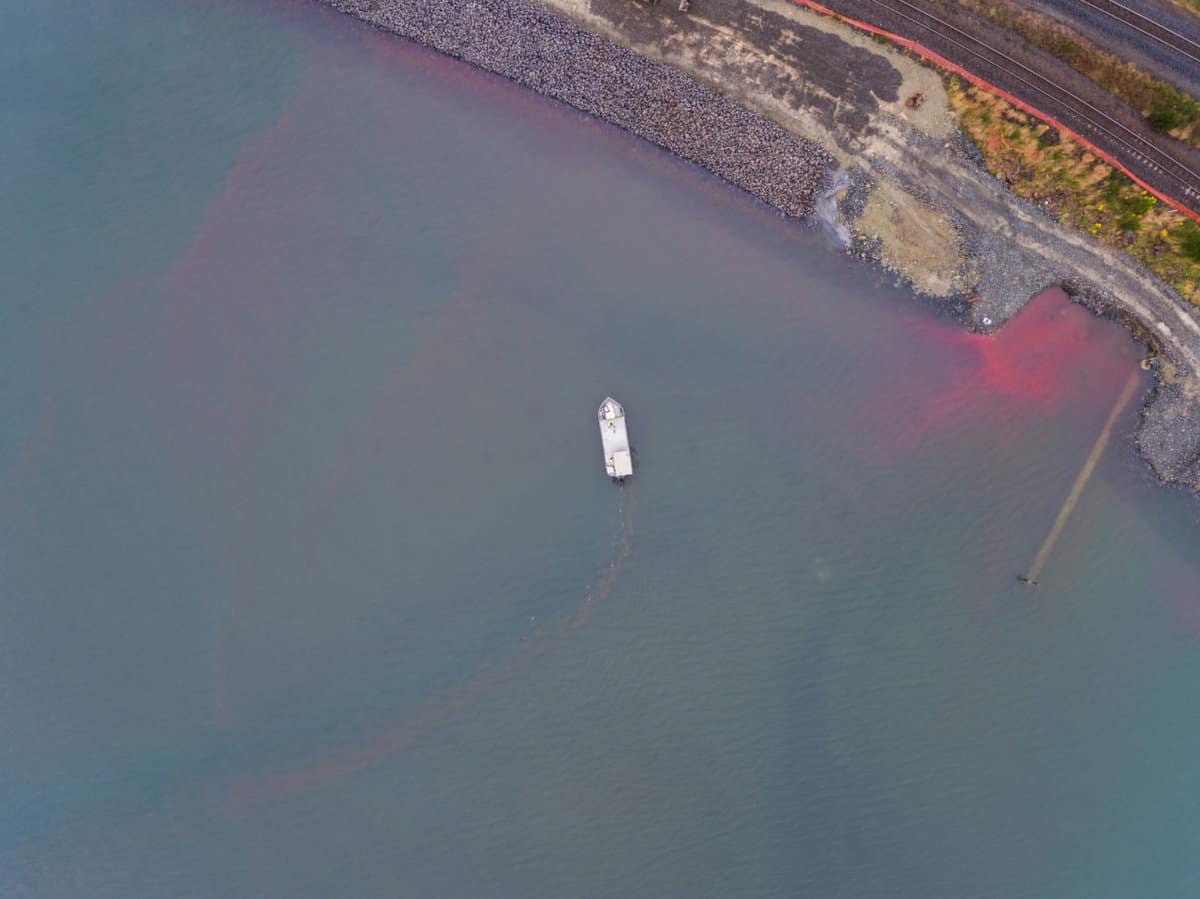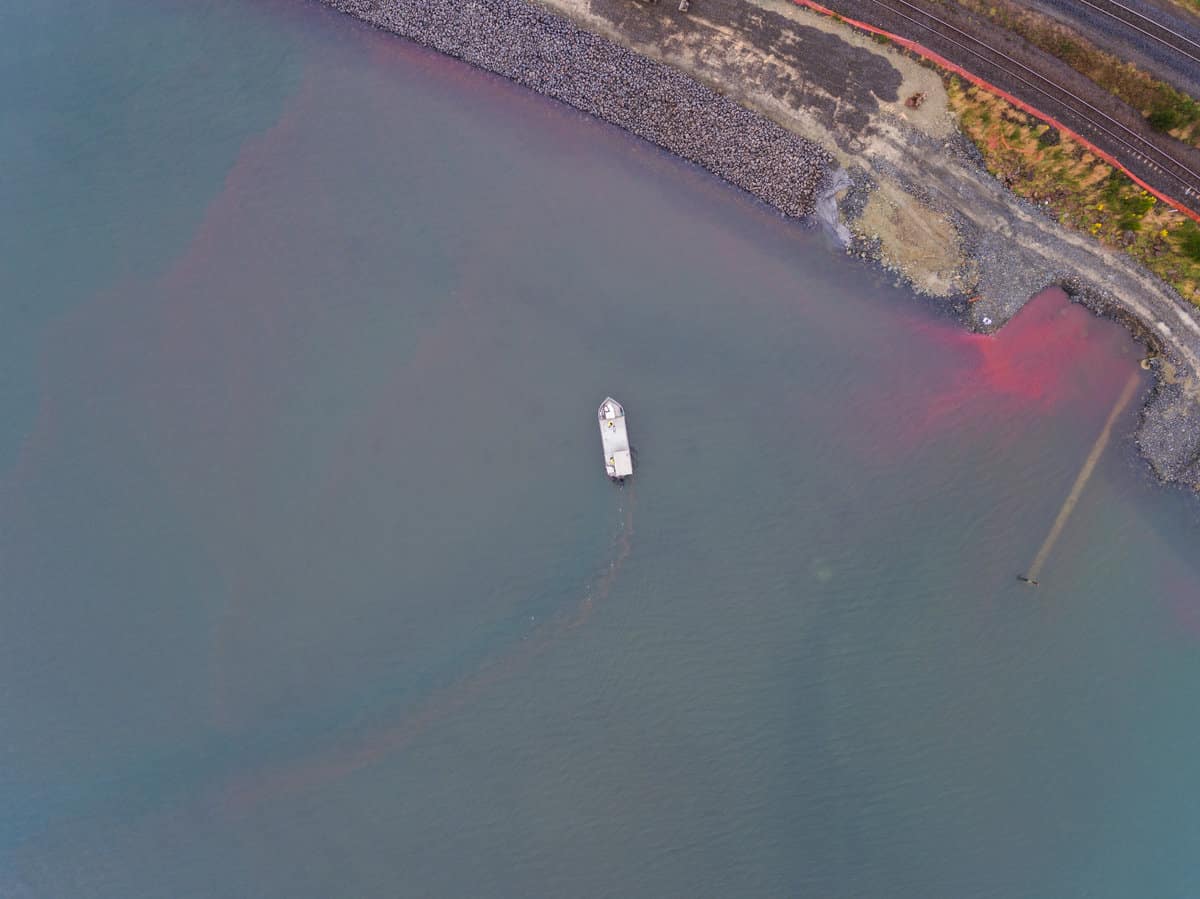 Image: Cawthron Institute. Dye study in Otago Harbour.
The study involves several elements – the first was to simulate how a wastewater spill would disperse and dilute in the harbour using environmentally friendly dye to trace and track a fake spill.
"We did this experiment in the harbour in February 2020 – we mixed 11 litres of dye with tap water and released it into the water column in an even flow to simulate a small wastewater spill – then we tracked it using small devices called fluorometers and GPS drogues which are devices that drift with the water currents without being influenced by surface winds, providing an indication of the direction and speed of water movement."
Aerial video recordings and photographs of the dye plume were taken using a drone as pictured above.
"Fortunately, NZ growing areas have not been implicated in many norovirus outbreaks and few of these events have been linked to wastewater treatment plant discharges, and we would like to keep it that way."
Another element of the study is microbial monitoring. Samples of little neck clams have been collected from nine sites in the harbour and sent to the laboratories for testing. At Cawthron, the samples are tested for E. coli and at ESR they are tested for human norovirus, FRNA Bacteriophage, crAssphage and pepper mild mottle virus. These viruses circulate in the community, are present in wastewater during those times and as such they are good markers of wastewater/human faecal contamination.
Dr Campos says this research will generate relevant practical knowledge.
"One example is how it will help in the development of sampling procedures to proactively manage viral contamination risk in growing areas. This is timely because an increasing number of wastewater treatment plant discharges have consent requirements for virus monitoring."
"This topic has been intensively studied in other major shellfish producing countries. In some cases, the research has led to significant improvements in shellfish sanitation programmes."
Dr Campos says New Zealand has environmental conditions and regulatory requirements that present different challenges from those seen in other parts of the world (USA, Europe, China).
"As the study is ongoing, our intent is to keep abreast of the latest scientific developments in this area and develop fit-for-purpose risk management protocols to ensure that our shellfish products maintain the highest levels of safety and quality."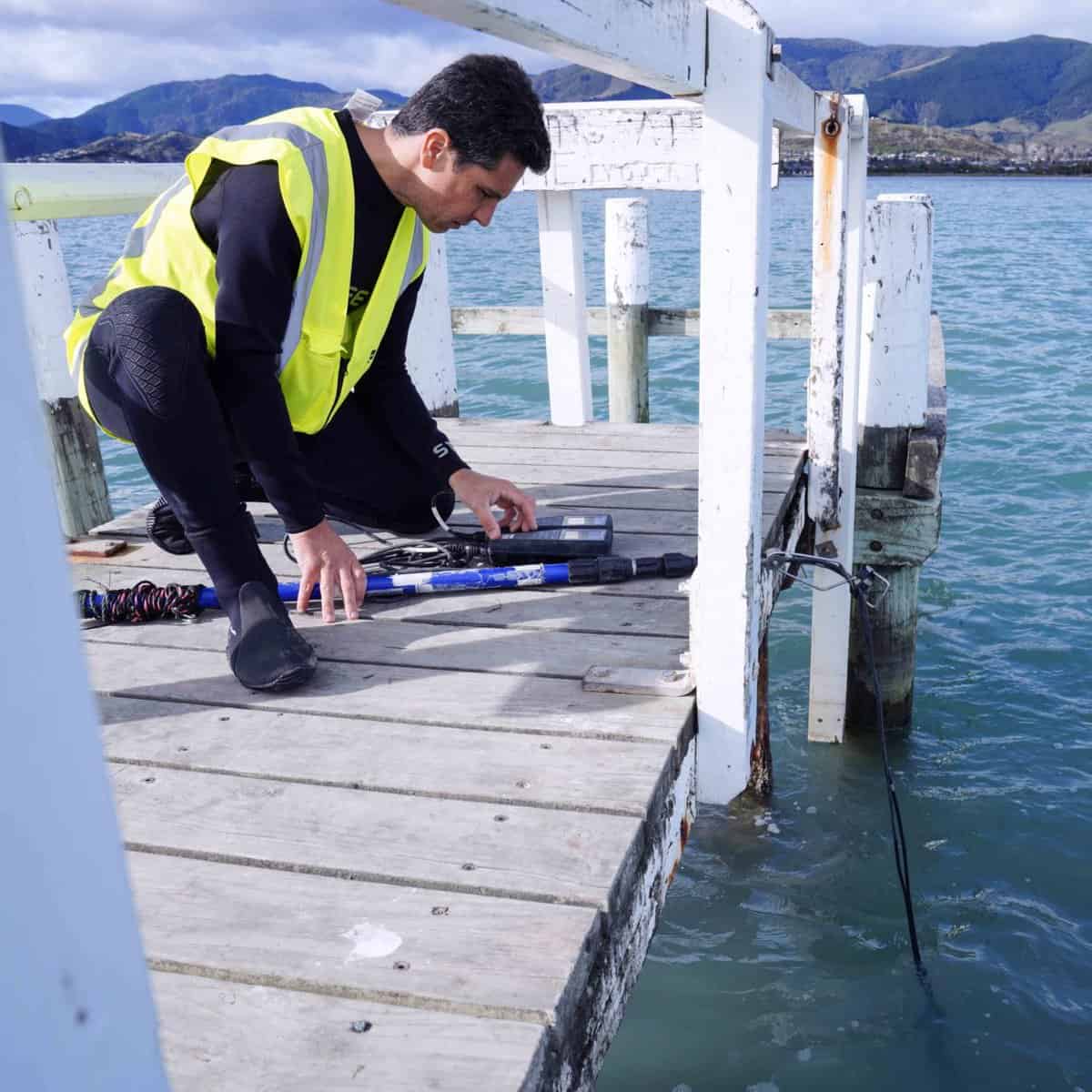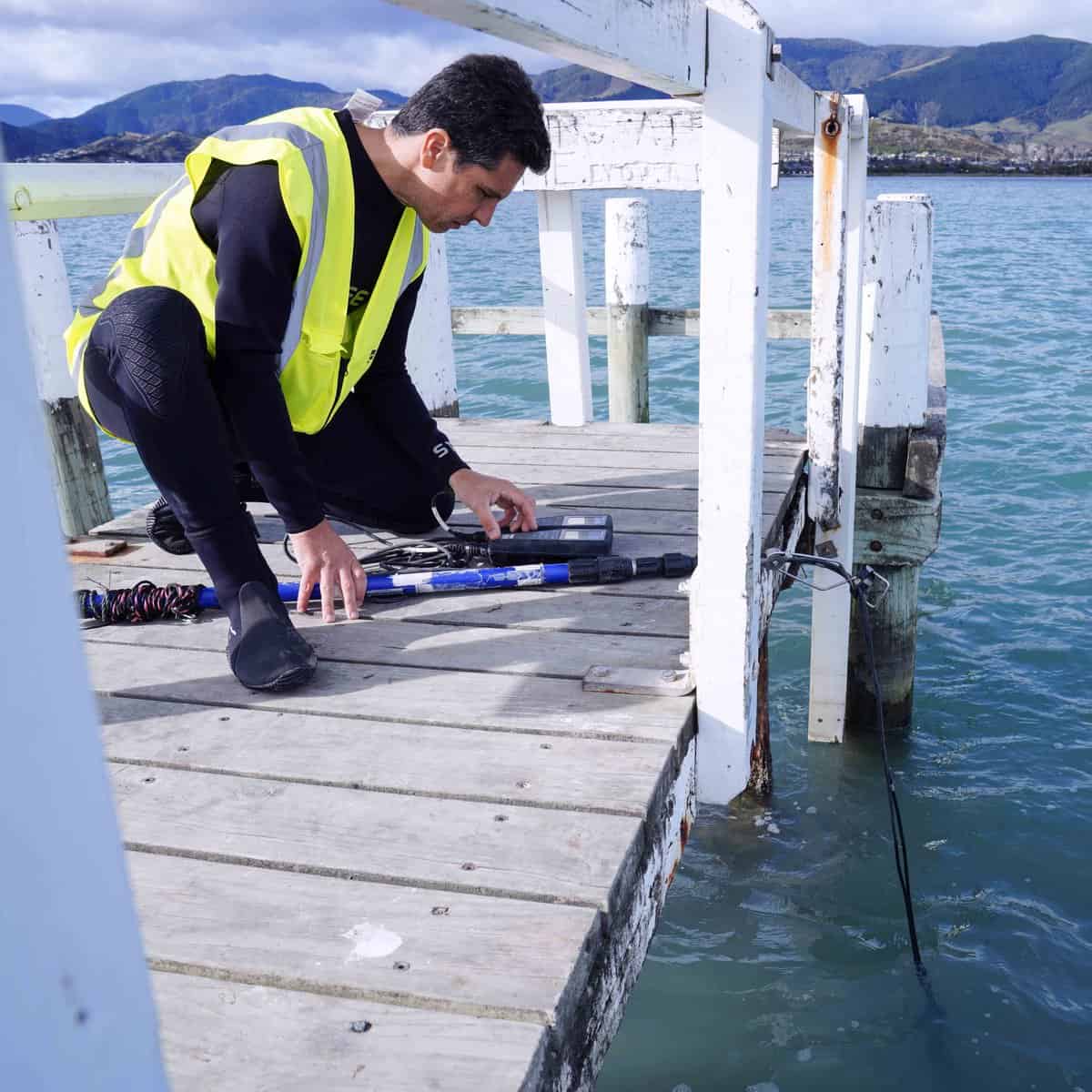 Image: Cawthron Institute. Dr Carlos Campos conducting water sampling activities.