Nayland student excels at Scitec Expo
Nayland College student Keshia Linyard has won both the Supreme Science and Supreme Art Awards over 270 other entrants at this year's Cawthron Scitec Expo. 
Making her feat even more remarkable, this is the second year in a row that the Year 10 student has won the Scitec Supreme Art Award. Keshia entered two separate projects that were judged against all other entries, from students in Years 1- 13, to win her awards this year. 
Nelson Science Society president and Lead Judge Jenny Pollock said it was a highly unusual achievement for the one student to win two of the four Supreme Prizes at the Scitec Expo. 
"I've been judging for over a decade and can't recall this ever happening before in my time.  
"We had a large number of entries this year across all four categories, and the fact that Keshia has won two Supreme Awards really demonstrates the consistently high quality of her work." 
Keshia's art entry – Coral Catastrophe – comprised of an intricate clay coral sculpture accompanied by four highly detailed paintings plus an extensive logbook and research demonstrating the development of her ideas.  
Keshia's science project – There's Something in the Water – involved an experiment on the effects of a commercially available fertilizer on the growth of freshwater cyanobacteria. The judges described her work as "outstanding science," saying she showed great methodology, well-developed conclusions and had thought through the implications her experiment. 
"She is a future scientist and expresses that passion very well,'' one judge noted. 
The Supreme Technology Award was won by Charlie Townsend from Nelson Boys Prep for his project, Dried Food, while the Supreme Research Award was won by Paige Butler from Garin College for her project, Saxton Creek Storm Water Upgrade. 
This year's Scitec Expo was held at Founders Heritage Park in late August. More than 600 students from 19 schools submitted 273 entries. All the science, research and technology entrants were interviewed by 56 volunteer judges from Cawthron, schools and other supporting organisations. Winners were announced at a prizegiving function held at Pūtangitangi Greenmeadows Centre this week. 
A new feature of this year's expo was the screening of science communication videos that some students submitted in addition to their projects. Judges were really impressed with the standard of videos by students of all ages.  
The Best Collective Effort Award this year went to Hampden St School for the class projects that it entered from its junior and middle school. They won a hand-held digital microscope for their mahi. Organisers look forward to seeing these budding scientists progressing to enter their own projects in future years. They also paid tribute to all the sponsors, volunteers and schools who support the event, enabling it to continue running after all these years.  
A full list of all this year's prize winners is available here.  
Photos from this year's prizegiving are available here.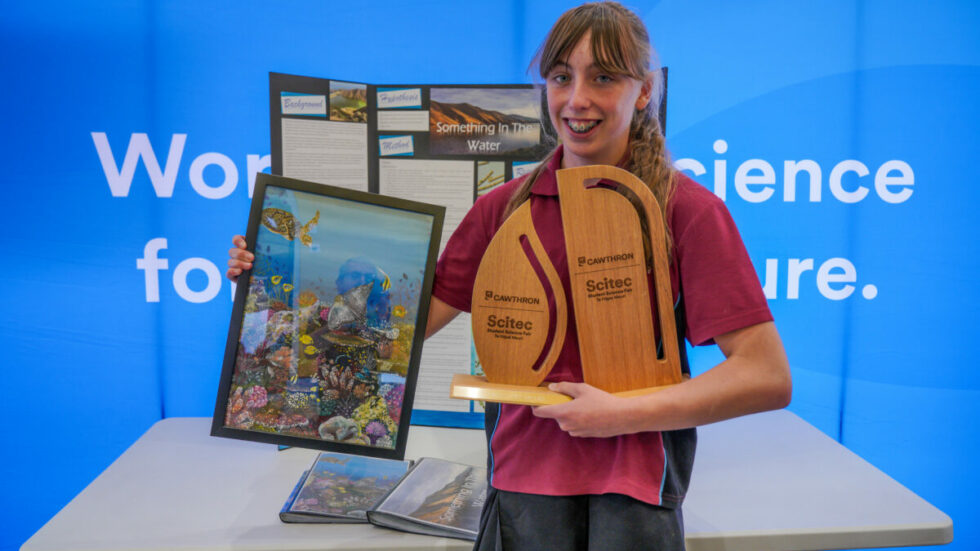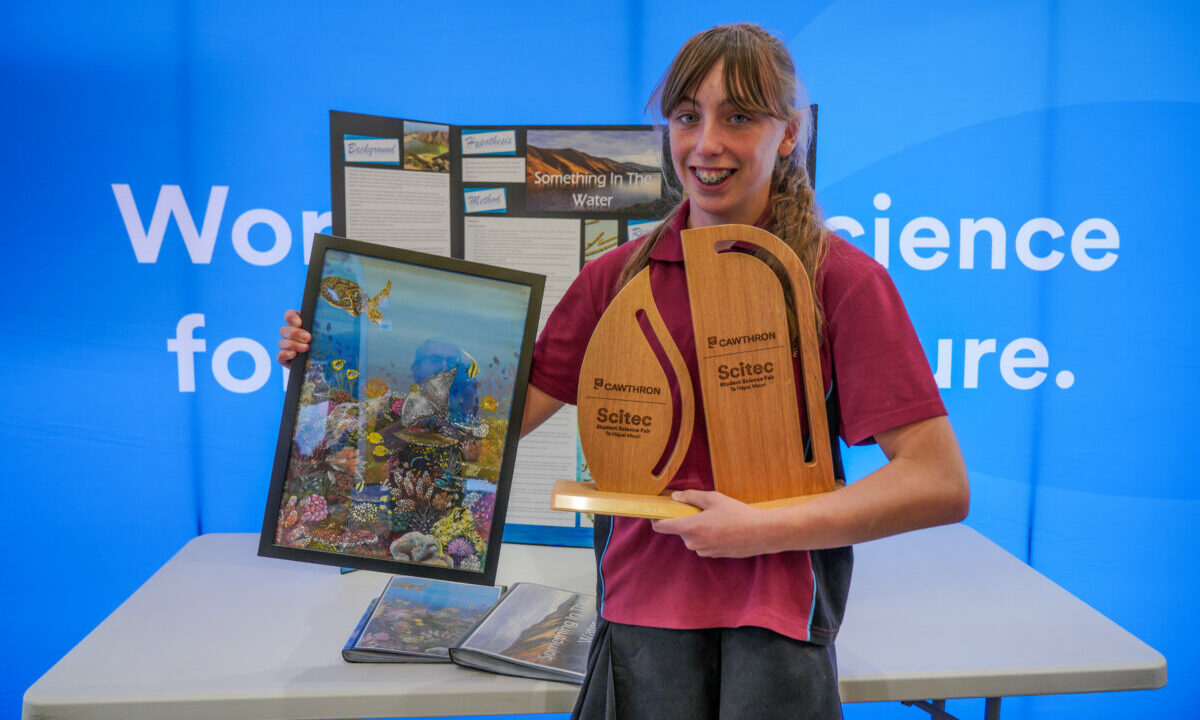 Image: Cawthron Institute. Scitec 2023 Supreme Science and Supreme Art Award winner Keshia Linyard.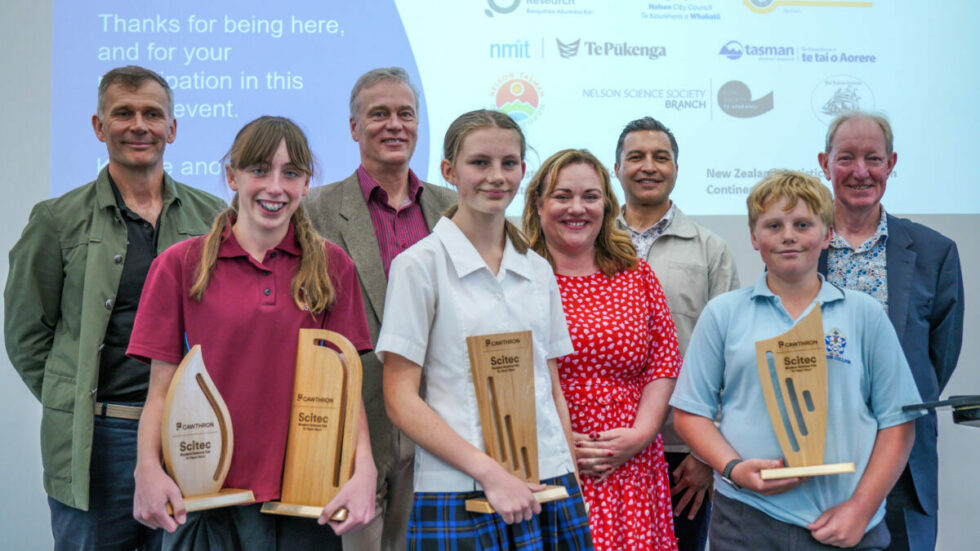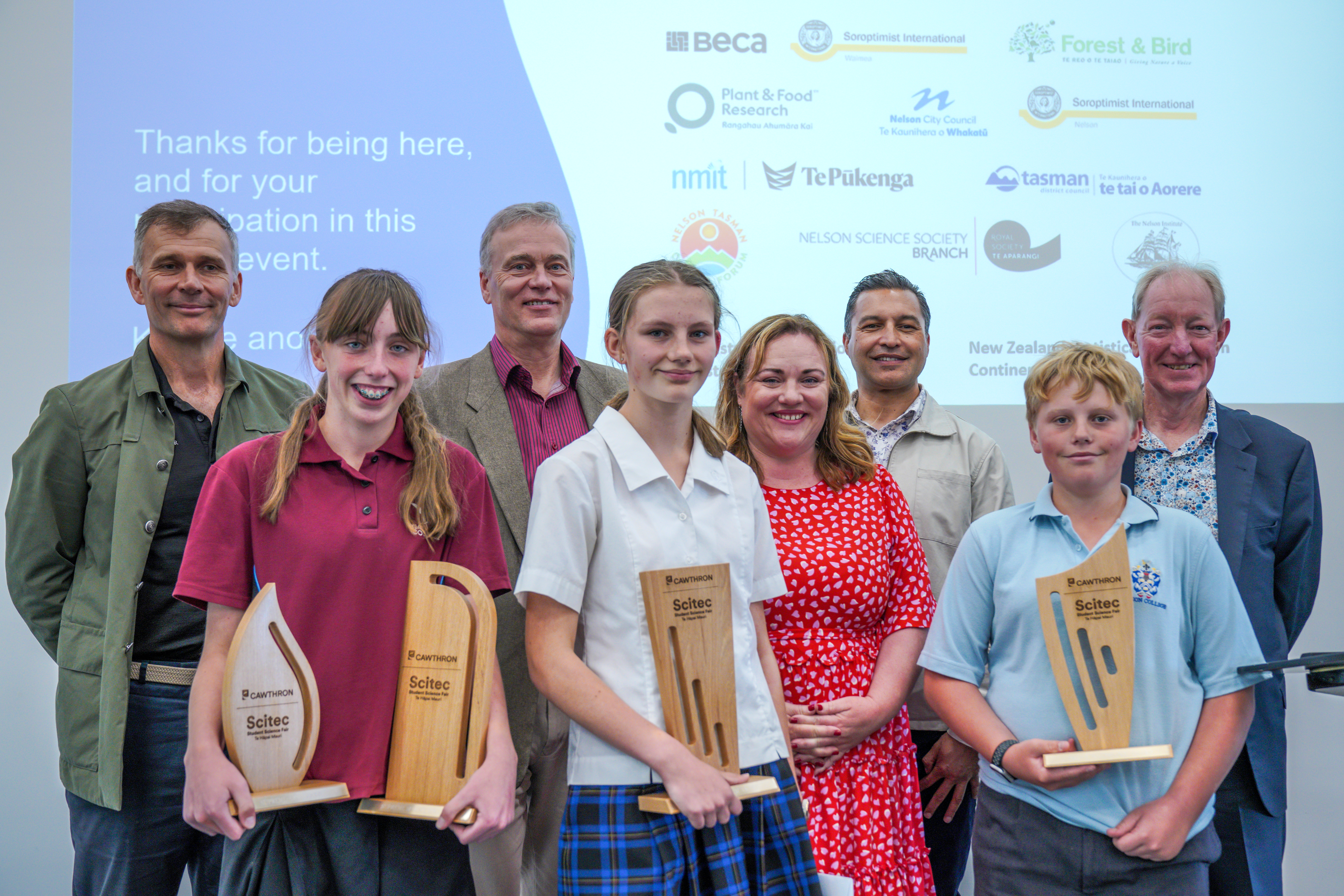 Image: Cawthron Institute. Front (L-R) Scitec 2023 Supreme Science and Supreme Art Award winner Keshia Linyard of Nayland College,
Supreme Research Award winner Paige Butler from Garin College and

Supreme Technology Award winner Charlie Townsend from Nelson Boys Prep

. Back (L-R)

Forsyth Barr Investment Advisor Euan McIntosh, Nelson Pine Industries Chief Executive Kai Kruse, Cawthron Institute Trustee and Nelson MP Rachel Boyack, Ngāti Rāura Board of Trustees Co-Chair

Anaru Luke, and Cawthron Institute Trustee and Nelson, Mayor Nick Smith.