Aotearoa Impacts and Mitigation of Microplastics (AIM²) Project
The Aotearoa Impacts and Mitigation of Microplastics (AIM²) is a national research programme Cawthron researchers are contributing to which aims to determine the impacts of microplastics in New Zealand. It is the first comprehensive research investigating the impact of microplastics and the threat to New Zealand's bioheritage systems, environments and ecoservices.
Content originally published on the AIM² Project page on ESR's website.
AIM² will significantly improve our understanding of the levels, distribution and impacts of microplastics on Aotearoa New Zealand and its unique ecosystems and taonga. It will also help to further the international knowledge and understanding in this area of research.
The project team is working closely with a range of primary sector industry bodies, regional councils and territorial authorities, NGOs, iwi and communities.
What are microplastics?
Microplastics are pieces of plastic less than 5mm in size. They are either made for purpose (primary microplastics) such as those used in industrial processes, personal and domestic care products, glitter or the preproduction pellets (nurdles) that is how plastics is transported around the world. Microplastics can be the breakdown products (secondary microplastics) of large plastic items, from food packaging to car lights. There is estimated to be >15 trillion pieces of microplastic debris in the world's oceans, 80% of which originate from land-based activities.
Worldwide there is increasing public and regulatory concern about the impact of microplastics on our environment, food, and health. International research demonstrates microplastics are pervasive in the environment. This problem has been likened to climate change due to its global scale and the magnitude of potential risks it poses to ecosystem health and resilience, human health, and the economy.
Funder: The Ministry of Business, Innovation and Employment awarded the project $12.5M through the Endeavour Fund
Partners: Led by Dr Olga Pantos at the Institute of Environmental Science and Research Limited (ESR) and Dr Grant Northcott (Northcott Research Consultants Ltd), involing researchers at Cawthron Institute, Scion, University of Auckland and the University of Canterbury.
Contact Xavier Pochon.
Other ocean health research projects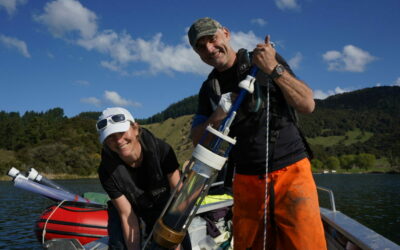 Cawthron Institute is celebrating the Government's announcement that two new research projects into emerging aquatic diseases and estuary health monitoring will receive support through MBIE's Endeavour Fund.
read more